Reaction to Daily Mail Posting Paparazzi Shot of Ariana Grande Post-Attack Is What You'd Expect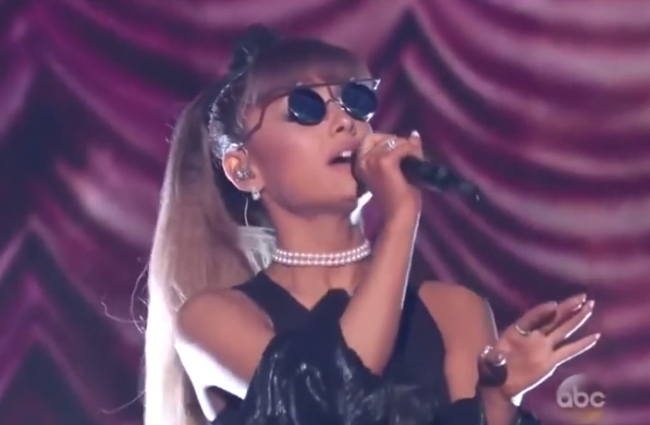 Paparazzi pictures are complicated for fans. To enjoy one, you have to like a celebrity, but not really love them. If you're a casual celebrity observer, photos of Kim Kardashian taking North West to ballet are fun. If you're an actual fan of the family, you might want to see the photos, but feel conflicted knowing a mother and small child had to fight a hoard of photographers to get to their engagement.
Today, the Daily Mail ran a photo of Ariana Grande back in America after the terrorist attack that took place during one of her concerts in the U.K. last night. The people who replied to the tweet fall beyond that second camp of guilty-pleasure-seeking fans who love to hate and hate to love the paps. The people who responded to this tweet were diehard Grande defenders who were not happy to see a photo of their idol so soon after she tweeted about being "broken" by the events of the last day.
Here are some of the top replies a a tweet we are deliberately not showing you:
@DailyMailCeleb pic.twitter.com/uuPod7bngK

— sof (@swanqveer) May 23, 2017
@tg4ariana @DailyMailCeleb i'm done with the media and the paparazzi

— sof (@swanqveer) May 23, 2017
@DailyMailCeleb How about you give her some fucking space and respect how the situation is for her.

— Jack Mull (@J4CKMULL) May 23, 2017
@DailyMailCeleb paparazzi's are the worst i seriously hate them when they show no respect

— bad liar vera ? (@selenarusso) May 23, 2017
@DailyMailCeleb Leave her alone.

— alex illest (@alexillest) May 23, 2017
@DailyMailCeleb Can y'all leave her the fuck alone

— Jon Adams (@prasejeebus) May 23, 2017
@ArianaBGrandeFR @DailyMailCeleb I'm proud of you guys as a fan base for being so protecting of her right now. So touching. ?

— FunShine Momma ☀️? (@KrissiScribbles) May 23, 2017
@DailyMailCeleb This is inappropriate. Stop using her tragedy for clicks, it's disgusting. Just respect her privacy.

— anth (@tinyhales) May 23, 2017
@DailyMailCeleb this is completely disrespectful. delete this.

— ant loves ariana (@loveawiana) May 23, 2017
@DailyMailCeleb pic.twitter.com/5BWGKJX93D

— logan (@deathlylogan) May 23, 2017
Imagine going home to your family knowing that you're a trash paparazzi, and made money from taking this picture of a person in mourning. https://t.co/HXVo79UCCZ

— Trevor Jones (@jonestm97) May 23, 2017
EXCLUSIVE: get the fuck out her face https://t.co/5YSUWyW9At

— Tré Melvin (@TreMelvin) May 24, 2017
The kids are alright, everyone.
[image: screengrab]
Have a tip we should know? tips@mediaite.com