So Who Is Kim Dotcom, This Guy Who Is Suddenly Popping Up in Seth Rich Stories?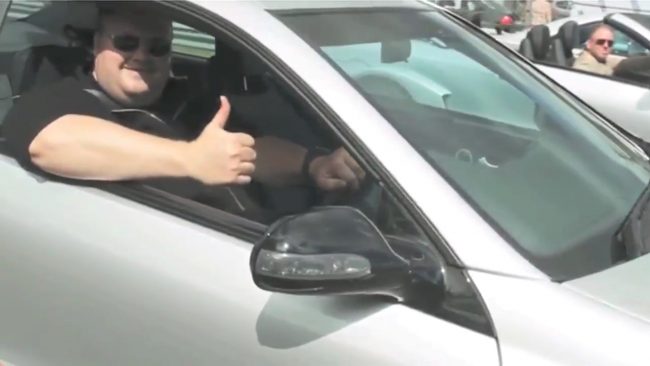 Hot on the heels of Sean Hannity's one-man campaign to drag Seth Rich's murder out into a full-fledged conspiracy involving Wikileaks, the DNC, and of course, the Clintons, enter Kim Dotcom.
Dotcom surfaced last Friday to tease information via Twitter about Rich's alleged connection to Wikileaks and the John Podesta emails. Hannity then tweeted at the internet gadfly, credulously asking if Dotcom had any evidence. Dotcom replied, "I'm the evidence!"
A series of tweets ensued which hinted at forthcoming information regarding the purported Rich-Wikileaks nexus. After stating that he was consulting with his legal team, Dotcom promised a statement would be released "on Tuesday".
That statement, which was released earlier today, didn't actually have any information in it–except for what Dotcom claims was Rich's nickname: "Panda".
A bit of a letdown to conspiracy theorists across the interwebz, the whole (and likely wholly) manufactured drama has people asking: Just who is this Kim Dotcom guy anyway?
Well, to begin with, he was born Kim Schmitz, and eventually changed his name to reflect the fact that he is very much online. As a teenager, Dotcom rose to prominence in Germany for his internet entrepreneurship and hacking abilities; the latter of which got him slapped with a suspended two-year sentence for identity theft.
A reformed man, Dotcom eventually attained worldwide fame as the founder of the popular file-hosting and sharing website Megaupload from 2005 until 2012 when it was shut down and seized by the FBI and Department of Justice on allegations of copyright infringement.
Dotcom was later arrested at his home in New Zealand and his assets totaling over $200 million were seized and frozen by authorities by way of a controversial legal procedure. Following multiple appeals, Dotcom was released on bail so that he could spend time with his family and fight the charges.
Extradition proceedings were initiated by the United States and extensive legal wrangling ensued. Famed law professor Lawrence Lessig offered his opinion pro bono, stating that no legal grounds existed to extradite Dotcom and that the allegations against him "do not meet the requirements necessary to support a prima facie case that would be recognized by United States federal law".
In 2013, Dotcom launched the encryption-protected cloud storage service Mega and followed that up the next year by launching his own political party. Dotcom's Internet Party contested New Zealand's 2014 elections, but didn't pick up any seats.
In February of this year, a judge in New Zealand signed off on the United States' extradition request but Dotcom has filed an appeal.
Have a tip we should know? tips@mediaite.com