Rebecca Black's 'Friday' Makes Triumphant And Day-Appropriate Return After Being Removed From YouTube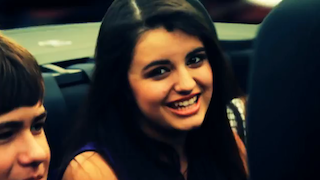 Yesterday, the Internet made a horrible discovery; Rebecca Black's infamous music video "Friday" had been removed from YouTube! How would we celebrate the coming weekend? More importantly, how would we know which days were involved in said weekend and which order they came in? Fortunately, just as it seemed today's fun, fun, fun, fun had been lost forever, the world received a last minute reprieve. Black has returned the video to the masses after apparently removing it herself due to a financial fight with its semi-creepy producers.
So why did it go in the first place? Earlier this week, Ark Music Factory, the company that produces disposable pop songs and videos for young girls looking to boost their careers or live out their pop star dreams, began charging a $2.99 "rental fee" to watch the video on YouTube. Everyone was stunned by the (insane) price, everyone including Rebecca Black.
From TMZ:
"TMZ spoke with a rep for Black who tells us, 'We can confirm that we submitted a Take Down Notice to YouTube as a result of the dispute we have with Ark Music regarding the 'Friday' video.'

As we previously reported, Black's people have threatened legal action against Ark — claiming the company that produced and wrote the song is wrongfully exploiting her image and her song because Ark does not own the rights to either."
Sure enough, the video was soon gone. But, right after every blogger in the country had written their ironic (but secretly completely serious) headlines about the weekend being ruined, Black and her team have gotten it back up, for free, and apparently in a "Director's Cut" form. At least, that's what it says. We can't see any big differences (this isn't the fabled lost version where she chooses the front seat) but, then again, if we knew this video well enough to notice tiny changes, we probably wouldn't admit it.
So enjoy! Your weekend is whole again!
Have a tip we should know? tips@mediaite.com