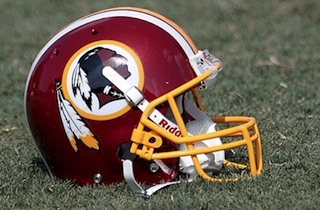 According to a report this week from Virginia's NBC 12, the Washington Redskins organization has hired Ben Tribbett, a well-known liberal blogger in Virginia politics, to help fight against the pressure to change the team's name. Tribbett made a name for himself with the "Not Larry Sabato" blog, which was the first place senate candidate George Allen's infamous "macaca" video appeared online.
"I have been a Redskins fan my entire life," Tribbett said of the move. "It is an honor to help the team promote a tradition that means so much to so many people." He has updated his Twitter bio to read, "Working with the @Redskins and have a lot of #RedskinsPride."
As NBC 12 writes, "Tribbett is a known progressive figure in Virginia who is in passionate support of defending the nickname. He brings deep political ties to the conversation and has a unique knack for understanding the changing political winds in the State Capitol." He has apparently already organized a "Redskins Pride" caucus in the Virginia General Assembly, which counts 28 members.
Tribbett announced on Facebook that he was shutting down his blog, which now brings up a blank page if you visit it.
Last month, 50 U.S. senators, led by Senate Majority Leader Harry Reid (R-NV), sent a letter to the NFL demanding a change to the team's name, which many Native American groups have called a "racial slur."
[h/t CBS Sports]
[Photo via screengrab]
— —
>> Follow Matt Wilstein (@TheMattWilstein) on Twitter
Have a tip we should know? tips@mediaite.com