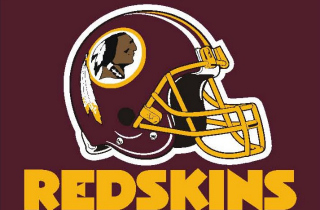 Washington Redskins owner Dan Snyder has a solution for the controversy surrounding his profitable football team name: Call another organization the "Redskins."
In an open letter "To Everyone in our Washington Redskins Nation," Snyder announced "the creation of the Washington Redskins Original Americans Foundation… to provide meaningful and measurable resources that provide genuine opportunities for Tribal communities." Phew, for a second there, I was worried Snyder would call it: "Christopher Columbus and Daniel Snyder present: The Washington Redskins Original Americans Foundation for Givings of Thanks."
Snyder continued with his speech: "What would my resolve to honoring our legacy mean if I myself—as the owner of and passionate believer in the Washington Redskins—didn't stay true to my word?" By all means, stay true to "your word," Mr. Snyder—it will continue to make you millions.
The letter itself—which reads like a visiting teenager's postcard from abroad—quotes ONE Native American's reaction to the dated and offensive slang term. But, fear not, Snyder did his research: "So over the past four months, my staff and I travelled to 26 Tribal reservations across twenty states to listen and learn first-hand about the views, attitudes, and experiences of the Tribes."
Hear the sotto voce trailer narration? Owner Daniel Snyder "is about to discover the frontier… within himself." Kevin Costner would be proud of this kind of box office white guilt.
The Oneida Indian Nation—leaders in the Change The Mascot campaign—released a statement this morning:
We're glad that after a decade of owning the Washington team, Mr. Snyder is finally interested in Native American heritage, and we are hopeful that when his team finally stands on the right side of history and changes its name, he will honor the commitments to Native Americans that he is making.

We are also hopeful that in his new initiative to honor Native Americans' struggle, Mr. Snyder makes sure people do not forget that he and his predecessor George Preston Marshall, a famous segregationist, have made our people's lives so much more difficult by using a racial slur as the Washington team's name.
With so little to lose — except football games and knee ligaments — Snyder can rattle off Native American poverty statistics and form organizations that send "3,000 cold-weather coats" to Tribes without fearing monetary retribution once his team takes the gridiron.
In Snyder's mind, he's already won the race– the owner has proved, once again, that the dollar is the real Original American.
Read the open letter here.
— —
>> Clark Young is, above all things, a Mainer and Red Sox fan. Follow him on Twitter here.
Have a tip we should know? tips@mediaite.com