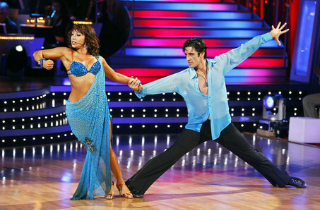 As election day nears, potential voters have a lot to consider about the crop of candidates: which one can turn the economy around, who is going to improve our healthcare system, which contender is going to keep us safe… and who would thrive on Dancing with the Stars?
A new Washington Post-ABC News poll may be able to provide an answer to that question, as the outlets found in a new survey that 51 percent of registered voters would prefer to see President Barack Obama on the reality series, a stark contrast to the 26 percent who would rather watch rival Mitt Romney bust a move on stage.
Sampling 1,101 registered voters via landline and cell phone-only correspondents, the pollsters revealed that Obama was the clear favorite for the hypothetical situation. Of course, some poll participants weren't keen on the notion of either candidate competing in the show. Eleven percent of sampled voters said they wouldn't want to see either political figure on the program. Eight percent reported having no opinion on the issue, and a measly four percent wanted both to appear on the popular show. Even right-leaning folks prefer Obama to Romney onstage, by a 44 to 33 percent ratio.
These numbers aren't all that surprising, as Obama has been leading in the polls lately and Romney's now-infamous "47 percent" comment has apparently cost him some votes.
Dancing with the Stars is by no means a political show, but it caught the attention of the political world in fall 2010 when Bristol Palin became a contestant. Her mother Sarah Palin recently said she'd never follow her daughter's lead and give the show a try, as she's a "klutz."
[h/t WaPo]
Have a tip we should know? tips@mediaite.com