Reminder: Seb Gorka Doesn't Actually Do Anything (Other Than Appear on T.V.)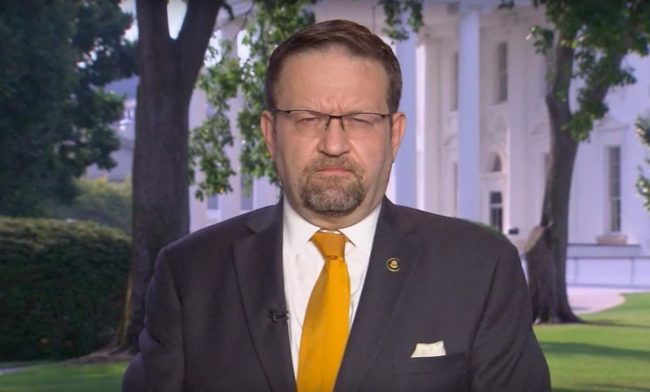 It's pretty hard these days to turn on the television and not see Sebastian Gorka.
The presidential aide and Hungarian Don Rickles — as he is known to some — has made a name for himself by bullying and browbeating television anchors, with particular ire saved for CNN and MSNBC.
With snappy suits and a clipped accent, Gorka cuts the very image of a connected White House power player and a natural surrogate for Donald Trump and his administration.
Given all that, we felt it a good time to remind everyone how this is all false.
As Mediaite and others have documented, Gorka, who does not have security clearance, spends most of his time idling in the White House canteen in between his all-to-common T.V. appearances.
An April report in BuzzFeed quoted a former Obama administration defense official who still kept up with current National Security Council staff. It wasn't pretty.
Per Buzzfeed:
"The last I heard he had not been cleared to sit in any sort of national security meetings, which leaves him without much to do all day."

"It was never clear what his qualifications were for any sort of posting," the official said. "But without that clearance he's not allowed to sit in the real meetings or review intelligence. I am told he basically sits in the White House canteen drinking coffee between Fox News live hits."
Of course, however, since those words were written, Fox News live hits have expanded to the more combative territory of CNN and MSNBC. His broader forays into cable comes with the high-powered blessing of MAGA prince and attempted Russia colluder, Donald Trump Jr. — though, as of this writing, there is no indication that his official portfolio has changed.
Gorka's a SAVAGE!!!: Trumps War On Fake News "Is Not About You," "Is About Actually Having Journalism Back On TV" https://t.co/QUsXZpLxWy

— Donald Trump Jr. (@DonaldJTrumpJr) July 13, 2017
Despite his newfound prominence on the shows, those in the know still can't help taking shots — like this zinger from from Jake Tapper.
i reached out and am awaiting an answer. most of us don't have as much free time as you seem to.

— Jake Tapper (@jaketapper) July 17, 2017
… So in conclusion, Gorka does nothing — not bad for $155,000 a year.
[image via screengrab]
Follow Jon Levine on Twitter / Facebook.
This is an opinion piece. The views expressed in this article are those of just the author.