Rep. Wasserman Schultz's Jewish Outreach Director Apologizes For Anti-Semitic Facebook Slur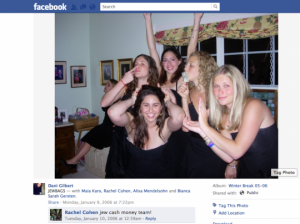 Congresswoman Debbie Wasserman Schultz's Jewish liaison Danielle "Dani" Gilbert apologized late Thursday for posting an anti-Semitic slur on Facebook. "I apologize for any harm postings on my Facebook page made years ago may have caused anyone. I meant no offense."
RELATED: Photo Of Wasserman Schultz Aide Using Derogatory Slur Goes Viral – But It Shouldn't
The Washington Free Beacon had publicized a controversial picture posted to her Facebook account in which Gilbert refers to herself and her friends as "Jewbags" and a friend refers to them as the "Jew cash money team." The photo quickly went viral, much to the chagrin of Schultz's political team.
"Danni (sic) has excelled in her role handling Jewish issues for the Chair in her Congressional office and was brought on here part time to do outreach to the Jewish Community," DNC spokesman Brad Woodhouse lamented to Politico's Glenn Thrush. "Like many in the age of social media, she had things posted on her Facebook page that she now regrets and which she has apologized for. Her employment both in the Chair's Congressional office and at the DNC is a testament to her knowledge and professionalism and nothing more – and no smear driven by the right wing noise machine is going to impact her status as a trusted member of this team."
BuzzFeed reports that Gilbert was hired despite multiple "heated objections" from many people affiliated with the DNC and even from Obama campaign officials:
The liaison, Dani Gilbert, was hired after months of heated objections from top Obama campaign officials in Chicago and from Wasseran Schultz's own staff at the Democratic National Committee, three well-placed Democratic sources told BuzzFeed. The campaign already has a more senior a full-time Jewish liaison, Ira Forman, who had been the longtime executive director of the National Jewish Democratic Coalition. And Wasserman Schultz's staff was concerned about bringing in Gilbert, a staffer in Wasserman Schultz's personal office who is the daughter of a Boca Raton wealth manager, Mark Gilbert, who is a top-tier bundler for Obama, and a major donor to the president, the Democratic Party, and to Wasserman Schultz's own campaigns.
Have a tip we should know? tips@mediaite.com