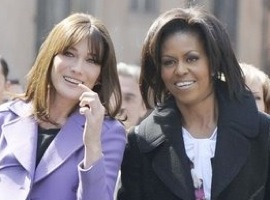 Newsweek editor Jonathan Alter reveals in his new book, The Promise: President Obama, Year One, that, while visiting the United States, France's first lady, Carla Bruni-Sarkozy, shared some sex-talk with U.S First Lady Michelle Obama. Bruni-Sarkozy reportedly told Obama that she and her husband, French President Nicolas Sarkozy once made an unnamed head of state wait while they had sex. Oooh La La!
Christophe Schpoliansky reports for ABC:
'Bruni wanted to know if, like the Sarkozys, Michelle and the President had ever kept anyone waiting that way,' wrote the American journalist. 'Michelle laughed nervously and said no' he added.

The spicy revelation on the sex life of the French presidential couple has led people to think that the dignitary in question may even have been the Queen of England, although she was never identified by Bruni-Sarkozy in the discussion. During an official state visit to the U.K, President Sarkozy and his wife spent a night at Windsor Castle, home of the Queen, shortly after they married two years ago.
Roughly two years ago, Jonathan Alter told the Observer that he planned to write about the Obama administration the way one might write about an internet start-up company, specifically saying "what happens when an irresistible force meets an immoveable object in the form of Washington, D.C. and the status quo."
Alter's book is set for release next week, and one can only imagine that a slew of other salacious leaks will be released in the coming days.
Have a tip we should know? tips@mediaite.com