Report: Conservative TX Sheriff Waged Campaign of Intimidation Against Opponents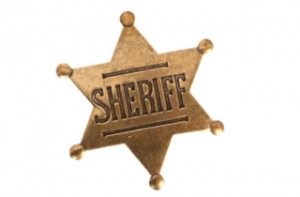 A conservative sheriff in Texas has waged a campaign of intimidation and retribution against Democrats and Latinos, according to a report in Texas Observer by Alex Hannaford published Monday.
Pamela Elliott is the "militantly conservative" sheriff of Edwards County. Beginning with a report of how in 2014 Elliott tried to strong-arm her way into a meeting of county Democrats being held in a private home, Hannaford writes that Elliott has "waged an aggressive campaign to intimidate Democrats, voters and the Latino community." His report continues:
The sheriff has arrested elected officials and gone to war with the superintendent. Her office has accused voters of electoral fraud with little evidence. And while embroiled in political combat, she's been accused of bungling an investigation into a high profile murder case — one that's haunted [Edwards County seat] Rocksprings for 20 years. Elliott appears to be motivated in part by a growing far-right movement that exalts sheriffs as the last line of defense against a tyrannical federal government.
Rocksprings' former mayor recalls how Elliott's dispersed her deputies to all polling places during the 2014 midterm elections in what she believes was an act of voter intimidation designed to keep the county's hispanic population away from the polls, and then tried to disqualify that former mayor's niece from voting.
Hannaford writes about Elliott's support of anti-government militias and her membership in the Constitutional Sheriffs and Peace Officers Association, which "encourages its members to disobey laws they view as violating the Constitution." The Association was co-founded by Sheriffs Joe Arpaio and Richard Mack, who has spoken out about states' rights to secede and also, the SPLC writes, is a proponent of "county sheriff supremacy … the idea that sheriffs are the highest law enforcement authority."
In the course of his reporting, Hannaford describes visiting a "safe house" where members of the Rocksprings establishment assembled to meet with him:
Every one of the eight people gathered says they are worried that if they talk to me, there will be repercussions from the sheriff's department.

"I've been told to install a camera in my vehicle just in case something happens," says one man, who didn't want to be named. "People here, officials included, are very wary of the sheriff."
[image via shutterstock]
Have a tip we should know? tips@mediaite.com