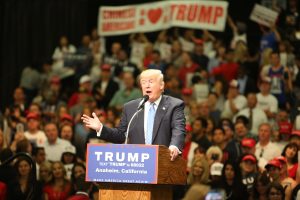 On the day before the election, Republican insiders said that the Trump voter turnout organization was too meager and too far behind Clinton's much larger, better organized mobilization effort, according to a new report in the Washington Examiner.
In the words of Examiner reporter David M. Drucker, these GOP strategists "dumped all over their party's voter turnout operation" in the final day of the campaign.
Trump, whose campaign was driven by high-energy rallies, dismissed more traditional get-out-the-vote methods, and largely left the RNC holding the bag when it came to voter mobilization. The Examiner reports:
Republican insiders say the RNC battleground field operation and data analytics department are not as robust as those deployed and developed by the Clinton campaign, which has built on the successes of President Obama's campaigns.

They also acknowledge that the Clinton campaign has an edge because it's doing everything under one roof for a candidate that buys into the process. That has allowed for seamless strategic coordination.

The Republicans are hampered by the disjointed nature of their presidential operation.

The Trump campaign has made strategic decisions based on an unorthodox approach that doesn't efficiently utilize the RNC's data and field army, sometimes ignoring them altogether.

"The improvements the RNC made are good ones," a Republican strategist said. "But I don't think anyone there thought that the entire ground operation would be dumped on them and dumped on them pretty late in the election. This will be Trump's legacy. He thought he could re-write the basics of a campaign."
You can read the complete report here.
[photo: mikeledray / Shutterstock.com]
Have a tip we should know? tips@mediaite.com