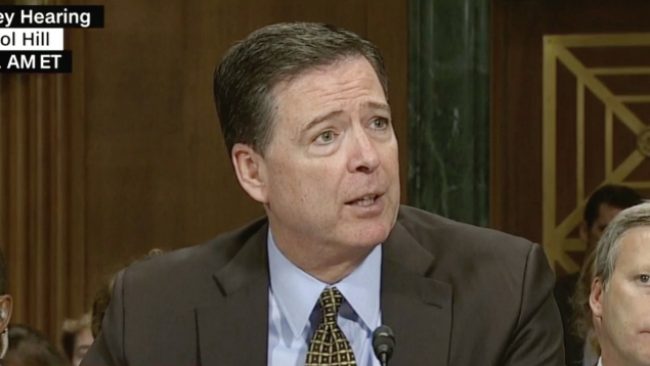 A new report tonight says that in his recent testimony, FBI Director James Comey "misstated" some facts about how Huma Abedin handled her emails.
Comey had told the Senate Judiciary Committee that Abedin "appears to have had a regular practice of forwarding emails" to Anthony Weiner "for him, I think, to print out for her."
He described this as an apparent "matter of convenience."
This comment from the FBI director got a lot of attention, but according to ProPublica, it was not a completely accurate statement:
FBI officials have privately acknowledged that Comey misstated what Abedin did and what the FBI investigators found. On Monday, the FBI was said to be preparing to correct the record by sending a letter to Congress later this week. But that plan now appears on hold, with the bureau undecided about what to do…

According to two sources familiar with the matter — including one in law enforcement — Abedin forwarded only a handful of Clinton emails to her husband for printing — not the "hundreds and thousands" cited by Comey. It does not appear Abedin made "a regular practice" of doing so. Other officials said it was likely that most of the emails got onto the computer as a result of backups of her Blackberry.

It was not clear how many, if any, of the forwarded emails were among the 12 "classified" emails Comey said had been found on Weiner's laptop.
ProPublica explains in its report that they've been "reporting a story on the FBI's handling of the Clinton emails and raised questions with government officials last week about possible inaccuracies in Comey's statements about Abedin."
During his testimony last week Comey said the idea that he influenced the election makes him "mildly nauseous."
UPDATE – 10:58 a.m. EST: Washington Post has heard from sources close to the investigation, who have acknowledged the inaccuracies of Comey's statements and are deciding with the Justice Department about how to clarify them:
The investigation found that Abedin did occasionally forward emails to her husband for printing, but it was a far smaller number than described by Comey, and it wasn't a "regular practice,'' these people said. None of the forwarded emails were marked classified but a small number – a handful, one person said – contained information that was later judged to contain classified information, these people said.
[image via screengrab]
— —
Follow Josh Feldman on Twitter: @feldmaniac
Have a tip we should know? tips@mediaite.com
Josh Feldman - Senior Editor