Report: Julian Assange Is a Cat-Obsessed "Disco King" With Love Children Around The Globe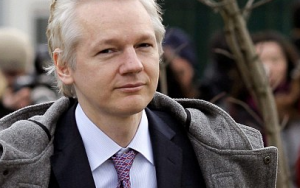 The legend of WikiLeaks founder Julian Assange is that of a man without a permanent address who travels the world, flopping on couches at the homes of friends. It's also, a new book suggests, the story of a man who often wears two pairs of pants, rarely carries cash, engages in power battles with cats and who's left a flock of love children in his wake.
Former Wikileaks spokesman Daniel Domscheit-Berg has broken with Assange and written a tell-all book, Inside WikiLeaks: My Time With Julian Assange At the World's Most Dangerous Website, a portion of which has–fittingly–been leaked. According to the UK Daily Mail, Assange suggested he was a father several times over:

It said: 'Often I sat in large groups and listened to Julian boast about how many children he had fathered in various parts of the world.

'He seemed to enjoy the idea of lots and lots of Julians, one on every continent. Whether he took care of any of these alleged children, or whether they existed at all, was another question.'
Domscheit-Berg's book describes Assange as a man without manners who seems to have been "brought up by wolves," and is driven by his own ego. According to the New Statesman, he's also a guy who's been called "The Disco King:"
I remember one evening at a club in a former slaughterhouse in Wiesbaden. The others we were with nicknamed Julian "Disco King" or something like that for his unusual way of dancing. Julian took up quite a lot of space when he danced – almost like a tribesman performing some ritual. He'd spread his arms and gallop across the dance floor, taking huge steps. He didn't look very rhythmic or co-ordinated, and he didn't seem to have that much feeling for the music, but he did possess a certain cool. He didn't care anyway what other people thought of him. You need space, he once told me, if you want your ego to flow. That statement fit well with his dance style.
And then there's his issue with cats.
Have a tip we should know? [email protected]