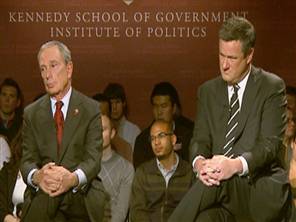 Is it silly season already? Howard Fineman is reporting exploratory discussions between New York Mayor (and media mogul) Michael Bloomberg and MSNBC's Morning Joe host Joe Scarborough regarding "whether they could be an independent presidential ticket in 2012." If that sounds absurd, Fineman also reports that "The White House is nervously watching what is going on" adding, so closely that David Axelrod, "made sure to attend a dinner hosted by Bloomberg in New York City." Wait, what? Sounds fun!
Writing for the Huffington Post, long-time beltway insider Howard Fineman reports:
They're the Odd Couple of Guys Outside the System.

The two are friends and, in both public and private, mutual admirers. They spent the day after the midterm elections complimenting each other at a Harvard symposium — Vanity Fair was there to document it all for a spring issue — bemoaning the same political rift they may try to exploit to win the White House.

Well-placed sources tell The Huffington Post that the mayor and the host have talked about running together, with Bloomberg in the top spot. In an interview, Scarborough, a former GOP congressman from Florida, issued a firm yet carefully-worded denial. "We haven't discussed it directly," he said, adding, "Have people discussed it in his sphere and in my sphere? I think so."
Fineman proceeds to explain, quite logically, how and why the two hybrid politico-media figures make sense as a candidate. Bloomberg is reported to have $20 Billion in cash and a sense of ambition (ego?) to match the needs of a presidential campaign. Scarborough has carved out the attractive niche of being an iconoclastic and moderate Republican figure who has spent years as a media figure and has hone his communication and debate skills.
That said, this will never work. It would be great fun (and perhaps even great for the country) if Bloomberg-Scarborough was a legitimate third party ticket in 2012, but it seems a far-fetched notion at best. One can only wonder who is behind this story, though Fineman makes it sound as though insiders with both men have supported this notion, if even only theoretically.
Read Fineman's full report here – it's a well-reasoned and logical report of why this ticket makes sense. And though the odds seem long at this point, but it will be fun and interesting to follow nonetheless.
Update: On Morning Joe today Scarborough rebuked Fineman's report, and a source close to the situation tells Mediaite that "Fineman is being played." We will have more on this report as video becomes available.
Have a tip we should know? tips@mediaite.com
Colby Hall - Founding Editor