REPORT: Mitt Romney May Be Forced to Publicly Apologize to Trump in Exchange For Sec of State Bid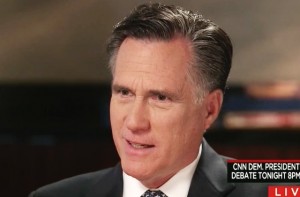 According to Fox News' Ed Henry, President-elect Donald Trump may make things a little more difficult for Mitt Romney if he hopes to become our nation's next Secretary of State.
As you may recall, back on March 3rd the former Massachusetts Governor and Republican nominee for President game an impassioned anti-Trump speech to a crowd in Salt Lake City. "Donald Trump is a phony, a fraud. He gets a free trip to the White House and all we get is this lousy hat," Romney said famously.
But that was before Trump stunned the world to become President-elect of the United States. Hell, that back before Trump even won his own party's nomination.
But politics can be tricky in this regard; flash forward to November, the Romney is reportedly under serious consideration to be tapped as the newest Secretary of State, a role that many believe is between Romney and Rudy Giuliani.
A senior transition official tells Henry that they are considering whether he has to issue a public apology for his past severe anti-Trump rhetoric. Romney called the real estate mogul a "phony and a fraud," in that March address, continuing, "There is a dark irony in his boasts of his sexual exploits during the Vietnam War, while at the same time, John McCain — who he has mocked — was imprisoned and tortured."
Trump in response called Romney "irrelevant," and said that the former Massachusetts Gov "failed badly," in his own quest for the Presidency.
Romney visited with Trump last week in Bedminster, New Jersey and said that the meeting was a "very thorough and in-depth discussion in the time we had."
Earlier this week, Mike Huckabee appeared on Fox & Friends to call out Mitt Romney directly amid reports of his consideration. "When you go after the person that is the nominee of your party, who has been duly nominated by the voters, and then you're savaging the voters, you're not just savaging Donald Trump," said Huckabee. "It would be a real insult to all those Donald Trump voters who worked really hard."
Have a tip we should know? tips@mediaite.com