REPORT: Residents of Trump Place Call Their Building's Name and Affiliation 'Embarrassing'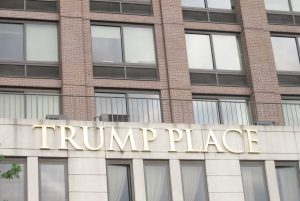 If you're in Manhattan and head upward and westward to 160 Riverside Boulevard, you'll find yourself at Trump Place, an apartment complex that is as ostentatious as it is luxurious. Once you get past the gilded exterior, you'll also find some residents who are less than thrilled to be living in a building bearing the name of the Republican nominee for the presidency.
Listen, the Upper West Side has always been liberal, but a new report from Buzzfeed News is showing just how humiliated those within Trump Place really are by what Donald Trump has done to the GOP. The building is owned by Equity Residential and has been since 2007, but the Trump name remains attached to the building.
According to the report, residents want the name removed from the property altogether.
An occupant named Mallory Gibson is quoted saying, "Uber drivers have commented on how it is the Trump building when dropping me off at night and then given me a bad rating while I was still in the car!"
Others claimed that Equity Residential told them they'd been under the impression New Yorkers liked the Trump name, which is why they kept it on the building when they acquired it in 2007.
"The truth is," said one man named Gary, "we never thought of him."
Gibson said that if the management won't remove the name, they should lower the rent for those who have to "deal with it."
One of the people interviewed for the report was a volunteer for the Hillary Clinton campaign and nearly all of the people interviewed refused to refer to their building as "Trump Place."
One woman said this:
Everything is marble, but the walls are really thin and sort of shabby. I always say, if he runs the country like he made this building, we're in trouble.
One Republican interviewed said he was just fine with the name.
[image via Billy Hathorn]
Have a tip we should know? tips@mediaite.com