REPORT: Spy Provides Memos To FBI Showing Connection Between Kremlin and Trump Campaign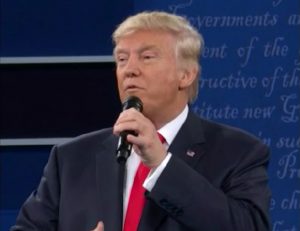 Mother Jones reported Monday evening that a former spy has informed them that he provided information to the FBI surrounding Donald Trump and his relationship with Russia. And the FBI apparently wants to talk to the ex-intelligence officer to see if he has any more info.
As the publication noted, there has been quite a bit of speculation regarding the Trump campaign's ties to the Kremlin. Outside of Trump's seeming admiration for Russian leader Vladimir Putin, reports have connected former aides Carter Page and Paul Manafort to Russian interests. And, Senate Minority Leader Harry Reid hinted at a cozy relationship in a note to FBI director James Comey.
The ex-spy tells Mother Jones that, per his info, Russia has been trying to cultivate Trump as an asset for years now.
Does this mean the FBI is investigating whether Russian intelligence has attempted to develop a secret relationship with Trump or cultivate him as an asset? Was the former intelligence officer and his material deemed credible or not? An FBI spokeswoman says, "Normally, we don't talk about whether we are investigating anything." But a senior US government official not involved in this case but familiar with the former spy tells Mother Jones that he has been a credible source with a proven record of providing reliable, sensitive, and important information to the US government.

In June, the former Western intelligence officer—who spent almost two decades on Russian intelligence matters and who now works with a US firm that gathers information on Russia for corporate clients—was assigned the task of researching Trump's dealings in Russia and elsewhere, according to the former spy and his associates in this American firm. This was for an opposition research project originally financed by a Republican client critical of the celebrity mogul. (Before the former spy was retained, the project's financing switched to a client allied with Democrats.) "It started off as a fairly general inquiry," says the former spook, who asks not to be identified. But when he dug into Trump, he notes, he came across troubling information indicating connections between Trump and the Russian government. According to his sources, he says, "there was an established exchange of information between the Trump campaign and the Kremlin of mutual benefit."
While Mother Jones highlighted that there is no way to tell if any of the memos or allegations are accurate, something like this would be far more serious than email hacks being sent to WikiLeaks by the Russian government, especially if Trump were to find himself elected.
UPDATED 9:45 PM: Law enforcement sources tell the New York Times that investigations are showing no direct links between Donald Trump and Russia.
[image via screengrab]
–
Follow Justin Baragona on Twitter: @justinbaragona
Have a tip we should know? [email protected]