REPORT: Washington Post Staff Angry After 'Inappropriate' Election Night Stunt at Paper's HQ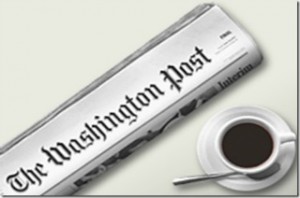 "[The] napkin-wearing woman who was being disrobed by guests went beyond inappropriate to offensive to those those of us who resent seeing women continually being reduced to and offered as objects of men's sexual desires," reads a letter that was signed by 150 Washington Post staffers of both sexes. The letter was given to Publisher Fred Ryan and Vice President for Communications & Events Kris Coratti, according to the Huffington Post, after an incident that took place on election night ruffled some major feathers.
If you couldn't gather from the quote, a woman at the paper's casino-themed, MGM-sponsored Election Night party was wearing napkins as she served guests and staffers. They were encouraged to remove the napkins. While she had something on underneath, attendees were shocked that the party planners thought that was an appropriate gag to end an election season that centered so heavily on sexual violence and misogyny.
Articles Editor Elizabeth Chang was the one who sent the letter, which included this passage:
The fact that this happened at a Washington Post party at the conclusion of an election in which the issue of sexual assault played a huge role is upsetting and infuriating and counter to what we thought The Post stood for in this election.
The previously-mentioned MGM affiliation of the party, too, was questioned in the letter. That went like this:
[The MGM sponsorship] alone seems a bit inappropriate, given the seriousness of election night and the decision that was made about the future direction of our country (not to mention that one of the candidates was a casino-owning mogul who likes to grab women by the crotch).
Objectifying women in the hopes of throwing the best corporate party of the year never seems to go well for media companies.
[image: screengrab]
Have a tip we should know? tips@mediaite.com