Reporter Attacked for Asking Soccer Star If He Murdered Rapper in Magic Ritual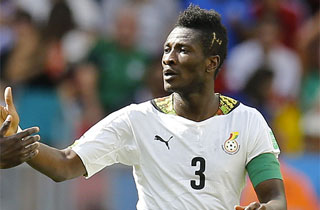 A reporter in Ghana is recovering in the hospital after he was brutally attacked by relatives of soccer star Asamoah Gyan for asking a question — that question being, "Did you murder a famous Ghanan rapper and use his body for a black magic ritual?"
Yes, this actually happened.
During a press conference leading up to the African Cup, the Daily Graphic's Daniel Kenu asked Gyan, the captain of Ghana's soccer team, to clarify some of the rumors surrounding the mysterious death of Gyan's close friend, rapper Castro The Destroyer.
"It has nothing to do with the upcoming match but I wish to appeal to Asamoah Gyan to clear the air," Kenu allegedly said, according to World Soccer. "There is this allegation that you sacrificed Castro for whatever reason…"
For background, Castro and his girlfriend had gone missing earlier this summer during a jet-skiing trip with Gyan, and after an extensive search in which no bodies were found, were declared dead. But the death was so mysterious that, somehow, someone started a rumor that Gyan had murdered Castro and used his body in a black magic ritual, because that's what friends do for each other (or something).
Reportedly, Gyan was upset and tried to confront Kenu, but was restrained by officials. And then, later, as Kenu was picking up his credentials, Gyan's brother Baffour (also a player on Ghana's soccer team) and a group of friends jumped him, raining down a "series of hefty punches on him" in front of the VIP lounge, according to the Daily Graphic. Thankfully, a reporter intervened and got Kenu to a hospital, while Baffour was arrested.
We don't think that any story we report today will get weirder than this one.
[h/t Deadspin]
[Image via AGIF / Shutterstock.com]
—
>> Follow Tina Nguyen (@Tina_Nguyen) on Twitter
Have a tip we should know? tips@mediaite.com