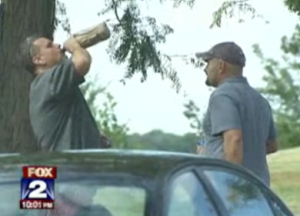 A couple months ago, President Obama stopped by Chrysler's Jefferson North Assembly Plant in Detroit and told the workers there he had confidence in them. If the president had said that about us, we'd have been pumped. We might have even had a party. Of course, we probably would have stopped partying after a month and a half. And we probably wouldn't have been partying during our lunch breaks. I guess the union workers caught boozing it up were just that excited.
The workers were caught by Rob Wolchek of Fox 2 in Detroit. He got a tip from some others at the plant and took his camera crews to follow a group for 10 days as they spent every lunch break heading to the liquor store, throwing back a few, smoking a few jays, and heading back to the plant. Of course, Wolchek does stress in his report that they did always make it back on time. That's almost impressive!
Fox 2 got a response from Scott Garberding, Chrysler's Senior Vice President of Manufacturing who said he was "very, very disturbed" by the video but stressed that the few people caught (some who have already been identified and suspended without pay) aren't representative of an "outstanding" plant. Fox 2 also talked to the UAW:
"The UAW strongly opposes the use of controlled substances or alcohol use on the job. This type of behavior jeopardizes the health and safety of all employees. We also recognize that, unfortunately, these behaviors exist in our society.

The UAW and the Chrysler Corporation work together to keep our workplaces drug and alcohol free, and to encourage employees with substance abuse problems to get the treatment they need. The employees involved in this situation do not represent the vast majority of workers at Chrysler who do a great job making high quality vehicles in some of the most productive manufacturing facilities in the United States."
Man, seeing workers slack off after a huge bailout is pretty depressing. However, if you want to see an American worker working hard, just look at the fine contribution of whoever does the music for Fox 2. This report's got more classic rock music cues than a Cameron Crowe movie. Sure, the economy's in a slump but, if the output of most American workers is anything like this guy's, then our country's future will assuredly be robust and entertaining…although, admittedly, a little on the nose at times. I mean, "Taking Care of Business?" Really?
Check out the report as well as an interesting conversation with Wolchek on what he found in the video below.
Have a tip we should know? tips@mediaite.com