Rev. William Barber calls out TN Governor Bill Lee to His Face: Can't Say You Love Dr. King and Not Support His Agenda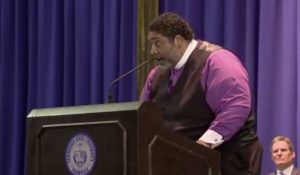 Reverend William Barber is both an American Protestant minister and political activist. The national board member of the NAACP the chair of its Legislative Political Action Committee. During a celebration of Martin Luther King Jr.'s life in Nashville, TN on Monday, Rev. Barber called out Governor Bill Lee (R-TN) in a fiery speech, while the Tennessee Governor sat just feet away from the dais where Barber was speaking.
In a series of tweets posted by former Congressional candidate Justin Kanew, Barber can be viewed ridiculing the positions of Governor Lee, President Donald Trump, and Vice President Mike Pence for policies that Barber believes are at odds with Dr. King's legacy.
"Politicians can't say they love Dr. King and how he stood for love and unity, but then you deny and refuse to support his agenda," Rev. Barber stated before turning to add "Right Governor?" to Gov. Lee sitting behind him:
Yesterday @RevDrBarber called out Governor @BillLeeTN & anyone who claims to love MLK but fight his agenda and hurt poor people.

Everyone should see it, so here's a THREAD. I encourage you to WATCH & SHARE them all.

Let's start with Barber calling out Lee to his face. ?? pic.twitter.com/hrtar2PXQX

— Justin Kanew (@Kanew) January 22, 2019
Barber then noted that Governor Lee himself is a product of immigration, asking "Governor, what's your name?"
"Governor, what's your last name?"@RevDrBarber asks Governor @BillLeeTN if "Lee" is a Native American name, and if not, how he can support all this anti-immigrant legislation.

Valid question. pic.twitter.com/YpBtnVx2Li

— Justin Kanew (@Kanew) January 22, 2019
Barber then took on voter fraud:
"You love Dr. King? Since 2001 Tennessee has pass multiple Voter ID requirements under the LIE OF VOTER FRAUD..courts say voter ID is a form of systemic racism. NOBODY TALKED ABOUT VOTER FRAUD UNTIL BLACK & BROWN PEOPLE STARTED VOTING EN MASSE."@RevDrBarber to Gov. @BillLeeTN pic.twitter.com/GyvVUEczml

— Justin Kanew (@Kanew) January 22, 2019
Barber also openly mocked Vice President Pence's referencing of King's past comments as a defense of President Trump's plan to build a border wall. "That's just foolish!"
One last clip: @RevDrBarber calls out @VP Pence for invoking the name of MLK to defend Trump's wall and shutdown.

"Are you nuts? That's just foolish." pic.twitter.com/U8F7XrGlBA

— Justin Kanew (@Kanew) January 22, 2019
(H/T to Justin Kanew for posting these and more clips on his Twitter feed.)
Have a tip we should know? tips@mediaite.com
Colby Hall - Founding Editor