Rich And Bored? Meet The Billionaires Behind The 'Draft Chis Christie' Committee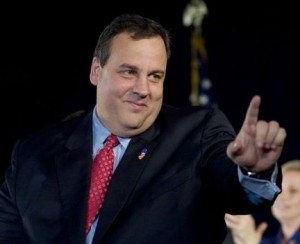 The Northeast's wealthy aren't feeling the current crop of GOP hopefuls and an influential few of the wealthiest have taken out their wallets in hopes of rectifying the race. The Meet the Draft Christie committee, a small but powerful collective of Republican-leaning donors and activists, are pushing to get New Jersey Governor Chris Christie jump into the race — all the no's in the world, be damned. As the New York Times explains it, these guys (and maybe a few women, although none are mentioned by name) "are Rich. They are unattached. They are looking for a little excitement." How many millions of dollars boring is Mitt Romney, really?
According to the Times' report, a small group of wealthy and influential Northeasterners working together as the "Meet the Draft Christie" committee have pocket-booked a campaign meant to encourage a Christie bid. Leading the charge are Kenneth Langone, the billionaire who founded Home Depot; Paul Singer, the hedge funder and much sought-after Republican donor; and David Koch, the richest man in New York, who in the past has been known to harbor affections for the Tea Party. Together, they are hoping for a candidate who might successfully take on President Barack Obama, and who will keep their interests in mind.
"Christie understands what it is like to be a Republican in the Northeast," explained Lynn Krogh, a republican campaign consultant. "He's practical. He's not just a barn burner."
And they like him. As Bradford Freeman, the man who led high-stakes California fund-raising for George W. explained to the Times:
I was at a conference this week with a lot of high-powered people … People just said he was fantastic. Those that know him or have heard him speak are very enthusiastic. He's articulate, he's done a good job in New Jersey, he has good charisma.
Although Christie has been mostly clear that he won't run, he has continued to tease that maybe he could — as he did last night at the Regan Library when he addressed America's future needs, political territory that falls well beyond his gubernatorial requirements. He seems to be flattered by the ambitious attention, and I would also assume he is enjoying the money being thrown in his direction. Surely these heavy-pocketed donors are showing up at other fundraisers Christie is at in hopes of wooing him. And as the Times points out, another group of Christie supporters, the Committee for Our Children's Future, spent $1.5 million on a television spot promoting Christie's accomplishments in New Jersey.
The Meet the Draft Christie committee is made up of folks who have in the past been very influential and are eager to write big checks for the right candidate. You have to wonder if the money they are putting into pushing for a Christie ticket is this money that might have otherwise been spent on an actual presidential candidate? If Christie's really serious about not running, is he holding things up for the Republican candidates who actually are? This teasing could end up being costly.
Have a tip we should know? tips@mediaite.com