Rick Lazio Pisses Off First Responders With His 9/11-Themed Mosque Campaign Ad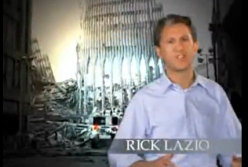 Apparently New York gubernatorial candidate Rick Lazio is taking his campaigning cues from Florida gubernatorial candidate Rick Scott and decided the ginned up controversy over the Lower Manhattan mosque would make for a great campaign ad platform. Of course, Rick Lazio — familiar to New Yorkers as the man who replaced Rudy Giuliani in an ill-fated Senate run against Hillary Clinton in 2000 — actually lives in New York (I have slightly more confidence that he could find 51Park on map if requested), which makes it hard to tell whether the use of 9/11 imagery in a campaign ad attacking Dem candidate Andrew Cuomo is better or worse. I'm going to say worse.
Also it reeks of desperation….there are plenty of other things to attack Andrew Cuomo over right now. More to the point, I don't think New Yorkers appreciate having 9/11 images shoved in their faces, especially in the garb of a political campaign. Apparently, NYC Fire Officers and Policemen agree: "His actions are as irresponsible as they are reprehensible."
Here's what Lazio says in the ad, against a backdrop of 9/11 images:
"New Yorkers have been through enough. Now a terrorist sympathizing Imam wants to build $100 million mosque next to Ground Zero. Where's this money coming from? Who's really behind it? Incredibly Andrew Cuomo defends it even though this Imam said America was an accessory to 9/11. Andrew Cuomo is very wrong."
Perhaps this goes without saying, but Rick Lazio doesn't have much of a media budget and is evidently attempting to take the Sarah Palin route of cheap but inflaming. Related: This mosque is probably not going to get built for reason having nothing to do with religion and everything to do with the morass that is New York real estate. Watch the ad below.
Have a tip we should know? tips@mediaite.com