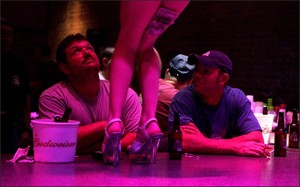 Many people on both sides of the argument have weighed in on the Park 51 Islamic center, more commonly known as the Ground Zero Mosque. But until now, one important and clearly relevant voice was left unheard – that of the exotic dancer community that apparently thrives around the Word Trade Center site. Now, thanks to the Wall Street Journal, that voice is being heard.
The article contests the idea that the location of the planned center sits on "hallowed ground," explaining that the area isn't that much different from any other spot in New York (read: surrounded by strip clubs and off-track betting facilities). The fact that the building used to house a Burlington Coat Factory and harbor homeless people also detracts from the sanctity of the space.
But the best thing about the story is the rare opportunity it provides to catch snippets of calm discourse (rather than the usual frenzied kind) from a group of people who work near the site, some of whom were directly affected by the terrorist attacks on 9/11 – "They're not building a mosque in the World Trade Center," one stripper said. "It's all good. You have your synagogues and your churches. And you have a mosque." Why can't everyone speak as simply about the situation as a woman described as wearing "a tiny, shiny red dress?"
Even the dancers who didn't agree with the building of the center avoided the fanatics that have given the story such prominent media coverage and worked everyone into a tizzy. The takeaway: strippers have level-headed views on controversial topics, and anything is better than a Burlington Coat Factory.
Have a tip we should know? tips@mediaite.com