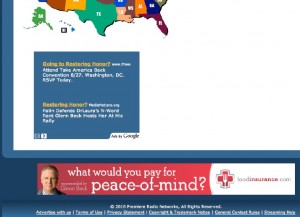 This morning, a Media Matters Google Ads spot, questioning Glenn Beck's inclusion of Dr. Laura defender Sarah Palin in his "Restoring Honor" rally, appeared in a rather unusual place: Beck's own website.  The ad juxtaposes Palin's defense of Dr. Laura Schlessinger, who quit her radio show following an n-word-laden rant, with Beck's insistence that his rally will "reclaim the Civil Rights movement."
As it turns out, the location of the ad is no mere coincidence. A Media Matters spokesperson tells Mediaite that the ad was deliberately targeted to run on Beck's site, in hopes that his more moderate listeners would check out their research on Beck's rally.
The ad links to a Media Matters post that attempts to connect Dr. Laura's rant to Beck's rally, a tactic that the liberal watchdog site continued today by linking the  racially-charged comments of another "Restoring Honor" headliner, rock star Ted Nugent. While this strategy bears a superficial resemblance to Beck's own much-copied chalkboard, the associations they draw are fairly direct.
Beck, himself, addressed Dr. Laura's rant on his radio show today, calling her actions "stupid." He also criticized an effort to add the n-word to the FCC's list of banned words, equating Dr. Laura's rant over the public airwaves with uses of the word in pay programming like HBO.
Update: About a month ago, an announcement appeared in a thread on the Restoring Honor Facebook page:
Due to a scheduling conflict, Mr. Nugent will not be able to join us on 8.28. He is a large supporter of the Special Operations Warrior Foundation and the Restoring Honor Rally, but he unfortunately cannot make it to DC in August.
Looks like the word hasn't gotten out, though, as Tea Party groups are still advertising Nugent's inclusion, and Keith Olbermann brought it up on tonight's Countdown.
Have a tip we should know? tips@mediaite.com