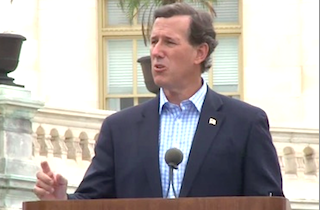 A common argument on the pro-gay marriage side of things is that if the country lets more people get married, it will create more stable families and therefore boost the economy. But former GOP presidential candidate Rick Santorum turned that hypothesis on its head this week when he argued that allowing gay marriage leads to less marriage and therefore hurts the economy.
"The family is the foundational unit of society and marriage is the glue that holds the family together," Santorum said in an interview he gave to Townhall.com at the March for Marriage event in Washington, D.C., so far sounding like he could be making a pro-gay marriage argument. Then he kept talking.
"When we continue to see a decline in marriage and a redefinition of marriage, you get less marriage," he said. "You get families that aren't as strong, and as a result, society generally, the economy suffers."
Santorum went on to explain that he believes heterosexual marriages will "break apart" once society says that marriage "isn't anything significant other than a romantic relationship between two people."
According to the conservative, marriage is "about a unity of men and women, for the purposes of having and raising children, and giving the child their birthright, which is to be raised by their natural mother and natural father."
"When we have less of that in America, when you have less of that in society at all, then society struggles and suffers. Economically, it suffers," he said. "It's important for us to stand up for what is best for children, what's best for society, what's best for the economy, and make that case."
Numerous economists have looked into this issue and arrived at the exact opposite conclusion to Santorum. Rather than causing straight divorce, as he seems to be implying, the legalization of same-sex marriage would greatly increase the number of marriages — and weddings — in this country, therefore helping the economy.
Once gay spouses are allowed to get employer health benefits like straight ones do, they will be more likely to be insured and therefore less of a drain on society at large. The Congressional Budget Office has estimated that gay marriage would save the government up to $450 million annually in entitlement programs, something fiscal conservatives would no doubt welcome. On top of that, states that allow gay marriage have been shown to have lower divorce rates than those where only straight marriage is legal.
Just today, President Barack Obama has decided to extend a whole raft of federal benefits to same-sex couples who live in states where gay marriage is legal. And the Presbyterian Church voted in its general assembly Thursday to change its definition of marriage from "a man and a woman" to "two people," allowing ministers to perform same-sex weddings in the 19 states (plus the District of Columbia) where they are legal.
At this point, Rick Santorum is so behind the times that he is forced to perform feats of rhetorical gymnastics to make a point that still does not make any sense on its face. If you believe, as Santorum clearly does, that more marriages will lead to a stronger economy, then how can you with any good sense argue against allowing more Americans to get married?
Watch video below, via Townhall.com:
[Photo via screengrab]
— —
>> Follow Matt Wilstein (@TheMattWilstein) on Twitter
Have a tip we should know? tips@mediaite.com