Right-Wingers Bash President Obama For Having Food Taster – Like Ronald Reagan Did
Right-Wingers Bash Obama For Having Food Taster - Like Ronald Reagan Did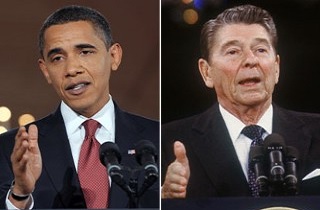 Oh, that uppity President Obama is at it again! Right-wing bloggers are making quite the meal over a Daily Caller piece containing the revelation that President Obama may have used the alleged absence of his royal food-taster to avoid having to eat some dodgy lobster salad at Thursday's luncheon meeting with Congressional Republicans. Although details on presidential food tasters are necessarily scarce, it will probably surprise you to know that even some white presidents had the occasional aversion to being poisoned, including Bill Clinton, the Georges Bush, and even… (gasp!) Ronald Reagan!
Bammerz is still holding his lame ass meetings with Congressional Republicans in his latest flailing attempt to show them that he too wants to inflict as much needless pain on the vulnerable with stupid spending cuts. Apparently it was Susan Collins' turn to have her special day with the President and as such she brought a Maine-themed feast full of shellfish and blueberry pie. However the President didn't touch this succulent lunch, and not because he felt uncomfortable with Senator Collins bringing him a big plate of aphrodisiacs:

"Unfortunately, you know, the president can't….He looked longingly at it..He honestly did look longingly at it, but apparently he has to have essentially a taster, and I pointed out to him that we were all tasters for him, that if the food had been poisoned all of us would have keeled over so, but he did look longingly at it and he remarked that we have far better food than the Democrats do, and I said that was because I was hosting."
So now, conservatives are slamming the uppity Kenyan tyrant for having the nerve not to want to be poisoned, which is, for some reason, not a mark of uppity tyranny when George W. Bush does it:
The president's tasters were on the job by 6 a.m., not just to make certain no one was trying to poison him, but to make sure the mushrooms that were to decorate the tenderloin of beef at the inaugural lunch for teetotaler George W. Bush were not cooked in wine. The tasters, Navy mess specialists who travel around the world with the president, watched the preparations in a makeshift kitchen just off Statuary Hall in the Capitol.
Wow, Dubya had a whole team of tasters! What an uppity, tyrannical scaredy-cat! Big Mac-lovin' big mack Bill Clinton was a little less of a pussy about things:
Reports from early in Bill Clinton's first term suggest inconsistent taster use: a March '93 Post account of an impromptu dinner with the Gores at a restaurant in Alexandria, Virginia, has a trio of Secret Service agents scrutinizing the preparation of Clinton's food but not actually trying any. But an "official" food taster (described as a "veteran of three presidencies") turns up in a local paper's feature on a Clinton get-together with Silicon Valley types in Los Gatos, California, a month earlier.
Wait, a "veteran of three presidents?" I'm no mathematician, but wouldn't that mean that white, Republican President George H.W. Bush had him a royal taster, too? And Saint President Ronald Reagan, too?
There's surprisingly little information out there about presidential tasters, because like other security measures, the White House and Secret Service like to keep a tight lid on them. I would tell you all of the things I've seen people get jacked up for by the Secret Service, but then I'd probably end up working for Gitmo-ite. Having covered the President for a long time now, though, it wouldn't surprise me to learn that Obama was just being kind, and wasn't in the mood for room-temperature seafood, as Wonkette theorizes. I'll have too remember that for the next time I'm offered some Papa John's.
Have a tip we should know? tips@mediaite.com