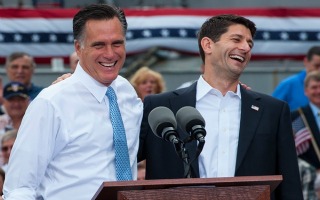 Heading into the final weeks of the 2012 campaign, the Republican National Committee announced that it raised $48.4 million in the month of September and has $82.6 million in the bank. The Democratic National Committee, meanwhile, took $10.5 million in loans and raised less than half the RNC's total last month — $20.3 million.

RELATED: Fundraising Numbers Show Obama Raising More From Military Than Romney
As of September 30, the DNC reported having $4.6 million cash on hand and $20.5 million in debt. $5.5 million of its debt is due to consulting services like pollsters, direct mail providers and events consulting firms.
The RNC's large September haul came amid a disappointing month for Mitt Romney in the public polls, suggesting that the party's October fundraising totals will outpace those in September.
President Barack Obama and the Democratic committees had a stronger fundraising month in September, raising $181 million to Romney's and the GOP committees' $170 million. However, the Democratic party spent heavily in the summer and early fall.
"While we continue to put money into our ground game and fully fund our absentee ballot, early vote and Election Day GOTV efforts in all our battleground states, our historic cash on hand figure also allows us to continue funding our independent expenditure committee, run highly effective hybrid ads and assist in electing Republicans across the country at all levels," RNC chairman Reince Priebus told POLITICO.
"The DNC declined to comment for this report," POLITICO's Tarini Parti concludes.
h/t POLITICO
> >Follow Noah Rothman (@Noah_C_Rothman) on Twitter
Have a tip we should know? tips@mediaite.com