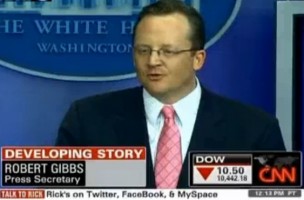 White House Press Secretary Robert Gibbs got into a heated exchange with April Ryan, a reporter with American Urban Radio Networks , over the president's social secretary Desiree Rogers and her role at the White House State Dinner controversy. Testy exchanges seem to be commonplace in this administration, but rarely does the Press Secretary compare a reporter's question to his petulant child. Video and text after the jump.
Text from the exchange:
April Ryan: Is there concern In this White House that she came out being someone might have called her the bell of the ball, overshadowing the first lady —

Robert Gibbs: I haven't heard that.

Ryan: it's been bantered around Washington, and Republican circles as well as Democratic Circles…

Gibbs: (interrupting) April that's not a station I live in…

Ryan: (interrupting) Just answer the question, please.

Gibbs: Are you done speaking so i can?

Ryan: Oh, yes, I'm done.

Gibbs: I have no heard any of that criticism, I have not read any of that criticism. The President, the First Lady and the entire White House staff are grateful for the job that she does. And thinks she has done a terrific and wonderful job pulling off a lot of big and important events here at the White House.

Ryan: She came by herself to this state dinner, did the president invite her — no, that's a real question — do not fan it off — did she invite herself when the president asked when her name was going on the list, and social secretaries are the ones that put their names on that list.

Gibbs: Was she at the dinner? April, April, calm down. take a deep breath. Now see? I do this with my son and that's what happens.

Ryan: Don't play with me

Gibbs: Was she at the dinner? yes, she's the social secretary.

Ryan: Social secretaries are not guests of the dinner.

(both talking over each other)

Gibbs: I'm going to get back to your topics like 98,000 men and women in Afghanistan.
Have a tip we should know? tips@mediaite.com