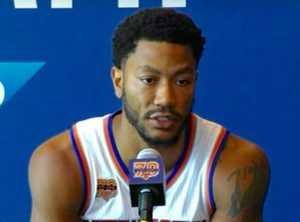 Last Wednesday, Rolling Stone's website published an article titled: "Why Derrick Rose Rape Trial May Wreck NBA Commissioner Adam Silver's Legacy." Friday, Rolling Stone deleted the article from its site. (An archived version can be found here.)
Politico reports that Rolling Stone was contacted by the NBA, which had a number of objections to the story. Rolling Stone subsequently issued two corrections.
Deadspin reports that Rolling Stone sports editor Jason Diamond was going back-and-forth on the corrections with the NBA before unnamed superiors on the masthead got involved, and apparently made the decision to take the piece down Friday morning.
The article, written by Beejoli Shah, centers around the Derrick Rose rape case, and focuses on the larger issue of how the NBA and commissioner Adam Silver have handled incidents of domestic violence involving the league's players. Rose is currently a defendant in a Los Angeles civil trial in which he and two others stand accused of sexually assaulting a woman in 2013. The piece criticized Silver for being largely silent on the Rose case, and for being "wildly inconsistent" with regard to domestic violence punishment.
Rolling Stone published a note about the retraction on Monday, which said in part, "After publication, it became apparent that the story had substantial flaws."
The removal comes as a defamation lawsuit filed against Rolling Stone in connection with their retracted 2014 article "A Rape On Campus" has just gone to trial. Nicole Eramo, a former associate dean at the University of Virginia, is suing Rolling Stone for nearly $8 million for defamation.
[image via screengrab]
–
Follow Joe DePaolo (@joe_depaolo) on Twitter
Have a tip we should know? tips@mediaite.com
Joe DePaolo - Senior Editor