Romney Administration Blocked Mass. Bullying Guide Over Words 'Transgender' And 'Bisexual'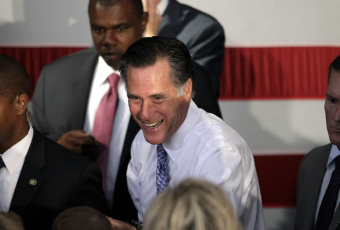 Boston Globe reports on Tuesday that during his tenure as Governor of Massachusetts, presumptive GOP nominee Mitt Romney and his administration blocked the publication of a state "antibullying guide" for public schools because of objections to the use of terms like "bisexual'' and "transgender'' in sections about preventing harassment of certain students.
At the time of the blocking, in 2006, Romney aides had publicly stated that the guide was delayed because it was a lengthy document requiring further review. But an e-mail written that year by a Massachusetts Dept. of Health official, obtained by the Globe, shows a different reason for the delay:
"Because this is using the terms 'bisexual' and 'transgendered,' DPH's name may not be used in this publication,'' wrote Alda Rego-Weathers, then-deputy commissioner of the Massachusetts DPH.
– RELATED: Mitt Romney Admits To Doing 'Dumb Things' Following Anti-Gay Prep School Prank Allegations
The Globe writes:
Because the Department of Public Health was the primary sponsor and funding source of the guide, the move effectively blocked its publication. Rego-Weathers said in the e-mail that she had been consulting with Romney's office on the issue.

… Stifling the guide's publication was among steps that Romney and his aides took during his last year in office to distance the Republican governor from state programs designed to specifically support gays, lesbians, and bisexual and transgender people. His critics said it was part of an effort to court social conservatives as he prepared for his first campaign for president in 2008.

"Romney put his own political interests ahead of the safety of vulnerable youth,'' said Don Gorton, a gay-rights advocate and author of the 120-page antibullying report, which was not printed and distributed until after Romney left office.
The Globe surmises that "Romney's moves against the commission and the bullying report appeared to be part of a transformation for the one-term governor. When he ran for Senate in 1994 against the late Senator Edward M. Kennedy, Romney boasted that he would be a more effective and outspoken proponent of gay rights than Kennedy," and now Romney appears to be staunchly opposed to particular causes like same-sex marriage
Full Boston Globe report here.
>> Follow Andrew Kirell (@AndrewKirell) on Twitter
Have a tip we should know? tips@mediaite.com