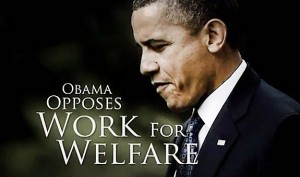 For the past month, the Republican campaign has been hammering President Obama over cutting out work requirements for welfare. The Romney campaign has been rebutted by many fact-checking organizations over inaccuracies in the claim, and during a panel discussion today, Romney pollster Neil Newhouse responded to the criticism, saying, "We're not going to let our campaign be dictated by fact-checkers."
RELATED: Newt Gingrich Tells Anderson Cooper There's 'No Proof' For Romney Welfare Attack
Earlier this month, after Mitt Romney alleged that under Obama's welfare plan, "you wouldn't have to work… they just send you your welfare check," PolitiFact rated his claim Pants on Fire. PolitiFact said it was a "distortion of the planned changes" in current welfare law.
CNN fact-checked the claims last week, noting that the Obama administration granted welfare waivers after governors of multiple states, including Republicans, asked for "more flexibility in how they hand out welfare dollars."
The Washington Post piled on and gave the Romney campaign's welfare ad "four Pinocchios." The president himself said of the Romney campaign's welfare ad, "Every single person here who's looked at it says it's patently false." Even recent news headlines have acknowledged factual inaccuracies in the Romney campaign's claims, from the AP's "Romney pushes on with discredited welfare attacks" to CBS News' "The real strategy behind Romney's (lying) welfare ads."
Greg Sargent contrasts today's statement by Romney's pollster with what Romney himself said earlier this year about how the Obama campaign keeps running inaccurate ads.
"You know, in the past, when people pointed out that something was inaccurate, why, campaigns pulled the ad," Romney said on the radio. "They were embarrassed. Today, they just blast ahead. You know, the various fact checkers look at some of these charges in the Obama ads and they say that they're wrong, and inaccurate, and yet he just keeps on running them."
h/t HuffPo
Have a tip we should know? tips@mediaite.com
Josh Feldman - Senior Editor