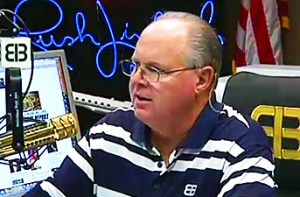 Rush Limbaugh went on a massive rant on his radio show today about how "embarrassed" he was by the VP debate last night.
"I nearly turned it off I can't tell you how many times," he said. "I was embarrassed by the whole thing. As a citizen, I was embarrassed for it."
He called Tim Kaine an "embarrassment" and an "abomination" and said he was so bad, "even the drive-by Media is embarrassed of Tim Kaine and realizes that he blew it."
And he believes that Kaine's performance exemplified liberal fears about the election:
"These people are so terrified of what you and I believe. They are terrified of anybody who can explain it. They are terrified of anybody who can persuade. They're terrified of anybody who can sell it. They simply cannot, in their minds, permit the things that you and I believe, which are mainstream from the founding days of this country. They can't permit them in the public domain, untouched, unattacked, unfiltered. It's really rather amazing when you think about it."
Limbaugh thinks that both Democrats and "their hacks disguised as journalists" are contributing to the "gradual decline in the overall intellect, in the seriousness of the things that we are dealing with, the issues, the challenges that we as Americans face."
"It was beneath us," he concluded. "Folks, we deserve better. We're the American people. We're American voters. We are the people that make the country work. We deserve better than that."
Listen above, via The Rush Limbaugh Show.
[h/t Daily Rushbo]
[image via screengrab]
— —
Follow Josh Feldman on Twitter: @feldmaniac
Have a tip we should know? tips@mediaite.com
Josh Feldman - Senior Editor