Ruth Reichl Joins Gilt Groupe As Editorial Adviser Of Gilt Taste: Is E-Commerce The Future For Journalists?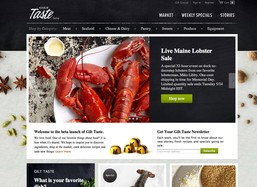 Women's Wear Daily writer Zeke Turner recently ran a feature on the launch of the Gilt Groupe's latest venture: an "online e-commerce slash-editorial venture for foodies". It's called Gilt Taste and they just hired Ruth Reichl as their editorial adviser. That's right, the same Reichl who was the editor in chief of Gourmet and who served as the New York Times food critic. Reichl is just the latest in a series of big names to jump on the e-commerce bandwagon. This begs the question; are these bold faced names predicting the future? Is e-commerce going to be the next publishing success?
It's no secret that magazines promote products. In our current climate of consumerism, it is sheer naivete to assume that the pair of pants you're appreciating in a magazine was picked merely because they were aesthetically pleasing. No, chances are that an editor somewhere made a deal with a designer. E-commerce takes all this in to the open. Turner (a former Mediaite writer!) gives an example of Gilt Taste's content:
This week on the site, Reichl published an environmental impact essay by Gourmet alumnus Barry Estabrook about hydro-fracking's impact on food. One click away, the reader-consumer can browse the Meat section of the site for different cuts of wagyu beef (Four 10-ounce New York strip steaks, $199). Elsewhere content and commerce are side by side: recipes by New York Times dining columnist Melissa Clark appear with some of the ingredients for sale in a sidebar (Le Sanctuaire Mini Salt Set, $42.).
Essentially, online retail companies like the Gilt Groupe and Net-a-porter have recognized that editorial content helps improve sales. If you're reading a recipe that suggests you use a specific mini salt set, you're more likely to run out and buy that mini salt set. So, with this in mind, these companies have started producing editorial content designed for sales. But that doesn't mean that it's not going to be solid, quality editorial. Said Reichl: "if this was just a catalogue of products — no matter how wonderful — I wouldn't want to be involved. What makes Gilt Taste unique is that it's a new kind of magazine, one that has no ads and is supported solely by sales."
It might be easy to dismiss these e-commerce ventures if not for the talent they're attracting. Some of Gilt and Net-a-poter's editors boast positions at GQ, British Esquire, Premiere, and, of course, The Times on their resumes. Having talented editors helps to create a stronger image for brands.
One commonly expressed concern about e-commerce is integrity. Journalists generally strive to separate "church and state", or advertising and editorial. However, as was discussed above, any product-based journalism can and should be regarded as suspect in the present climate. Advertisers absolutely apply pressure to have their products featured in editorial. There is no separation between church and state. Gilt's Susan Lyn explains how commerce companies escape the pressure that consumes the magazine industry:
I think when you talk about blurring the line between church and state for commerce companies, it's a very different animal in that there is no advertiser there to protect against. There is nobody at our company who is pressuring our content people to cover X or Y product because there's no incentive for us to do that.
So in a sense, e-commerce is more pure that magazine editorial. It is not advertisers who are controlling product placement: it's business men and women who invest in products because they believe in them. Commerce is the right word: these publications are simply taking out the advertising middle men and finding it all the more profitable. To me, at least, this is refreshing and modern. We live in a consumer based society, might as well accept it. Perhaps WWD isn't being far fetched in concluding that this might be the future.
(h/t)
Have a tip we should know? tips@mediaite.com