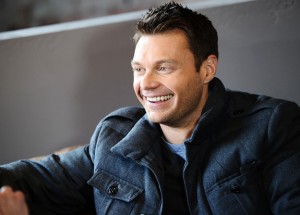 In a contract that NBCUniversal is calling a "groundbreaking multi-platform agreement" Ryan Seacrest, the longtime host of American Idol and E! Entertainment news will become, among other things, a reporter/analyst for NBC News during the 2012 election. The New York Times' Brian Stelter reports that Seacrest's new two year deal will make him a "special correspondent" for the Today Show and will include contributions to NBC's Olympics coverage. Some sort of deal with Seacrest was long expected since he is viewed by many as one of the most versatile and well-liked hosts on television and Mediaite was first to report that NBC talked to Seacrest about hosting the Today Show if Matt Lauer left his perch as co-host.
With regard to election coverage, Stelter reports that "the scope of those contributions has not yet been determined" but no matter what that means, it will ruffle feathers amongst the true journalists at the network who cover politics on a daily basis. Sure, The Today Show is part of NBC News but announcing that Seacrest will be part of the NBC News election team takes it to another level. Unlike morning shows which are understood to include everything from live animal tricks to cooking segments, election coverage is the crown jewel of any news division and any on-air time for Seacrest, will be at the expense of some other NBC reporter or analyst.
The decision to re-sign Seacrest to the Comcast/NBC family comes as NBC News and The Today Show, in particular, is under enormous pressure with ABC's Good Morning America challenging the long time ratings leader. Another article in the Times out tonight reports that GMA may beat The Today show again this week and that with "momentum so strongly on the side of "G.M.A." it seems only a matter of time before the show runs down Today" in all of the relevant ratings.
NBC News brass clearly hopes that having Seacrest appear on NBC News and The Today Show could help halt that momentum. Sure, journalistic purists will argue that Seacrest isn't qualified to cover elections, but of course, that would ignore the fact that Seacrest has probably covered as many elections as Tom Brokaw, except that those were elections for the "next American Idol!"
Have a tip we should know? [email protected]