S.E. Cupp on Doomed GOP: 'Real Migraine' Will Start When Trump 'Actually Wins' Nom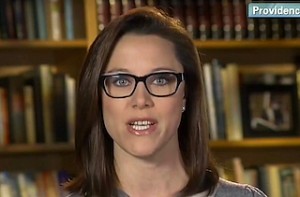 In her Wednesday column for the New York Daily News, S.E. Cupp delivers a hard blow of realization to the conservative base waking up this morning in blissful denial after a Ted Cruz victory in Wisconsin over likely nominee Donald Trump.
Despite the decisive win in the Badger State for the Texas Senator, writes Cupp, the prospect of a Trump nomination is no longer the stuff of fantasy; instead, a real, "…look at the numbers makes it more than likely that Trump will win the nomination outright — no contested convention, no last-minute saviors."
It is an idea that the conservative base by and large has been slinging to: divert enough delegates away from the Trump Train in the hopes of forcing a toss-up situation at the Cleveland convention this summer. However, Cupp has admittedly moved onto the stage of acceptance that a Trump nomination is inevitable.
"The word 'disaster' somehow feels too subtle," Cupp continues in blistering honesty to describe what the already-fractured state of the GOP is in store for in 2016. After positing the realistic steps that the Republican party will need to put in place once a Trump nomination becomes final — which gravely ends with the assertion that it will need to rebuild after an almost-certain Hillary Clinton victory — Cupp highlights the real pains in store for the right-leaning electorate:
"For many, the headache that is Trump has been building and building. But as bad as it's been, the real migraine has yet to set in. Wait until he actually wins the nomination."
Have a tip we should know? tips@mediaite.com