Sanders Camp Wants Hillary 'Attack Surrogates' Removed from Dem Convention Committees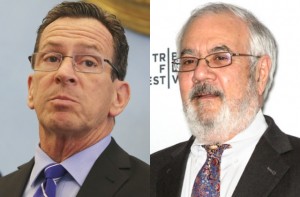 Bernie Sanders will most likely not be the Democratic nominee for president, but the Democrats have allowed him to pick people for the DNC convention platform committee. But he has some objections to two members of convention committees who are firmly in Hillary Clinton's camp.
The Sanders campaign sent a letter [PDF] to the DNC rules and bylaws committee calling out the selection of Connecticut governor Daniel Malloy and former congressman Barney Frank to two different committees at the convention.
Now, both Malloy and Frank are solid Democrats––Frank is considered a liberal icon––but the Sanders camp is objecting because they've attacked him during the campaign season:
Governor Malloy and Mr. Frank have both been aggressive attack surrogates for the Clinton campaign. Their criticisms of Senator Sanders have gone beyond dispassionate ideological disagreement and have exposed a deeper professional, political and personal hostility toward the Senator and his Campaign. The Chairs therefore cannot be relied upon to perform their Convention duties fairly and capably while laboring under such deeply held bias.
The letter declares that Frank's animosity for Sanders "dates back decades" and runs through a whole list of examples. Oh, and then there's that Slate interview Frank did with the actual headline "Barney Frank Is Not Impressed by Bernie Sanders."
In that interview, Frank said Sanders hasn't gotten much done in the many years he's been in Congress, and that Sanders has been "outrageously McCarthyite" in demanding the transcripts of Clinton's Wall Street speeches.
And Malloy has gone after Sanders for having a questionable gun record.
Paul Krugman summed up the Democratic bewilderment at Sanders' decision thusly:
So, it's OK to have Cornel West –"Obama is a Republican in blackface" — on platform committee, but not Barney Frank? Wow.

— Paul Krugman (@paulkrugman) May 28, 2016
UPDATE –– 3:40 pm EST: The DNC has turned down the Sanders campaign's request:
"Having carefully reviewed your challenge, we find that it fails to meet the criteria for the foregoing reasons and pursuant to the Regulations and Bylaws Committee for the 2016 Democratic National Convention, Reg. 3.4(G)(i) we are compelled to dismiss it."
[image via a katz/Shutterstock, Ovidiu Hrubaru/Shutterstock]
— —
Follow Josh Feldman on Twitter: @feldmaniac
Have a tip we should know? tips@mediaite.com
Josh Feldman - Senior Editor