Sanders Does Not Concede Primary, Pledges to Do 'Everything in My Power' to Beat Trump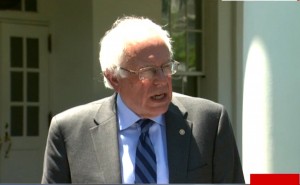 Sen. Bernie Sanders said he would stick out the Democratic contest to the very end, but pledged to do "everything in my power" to defeat Donald Trump in the fall.
Sanders emerged from an hour-long meeting with the president at the White House and delivered the relatively brief statement to reporters Thursday afternoon. Sanders did not concede the Democratic race, as some expected he might, and pledged to continue his campaign through the D.C. primary.
In his remarks, he repeated many of the familiar points from his stump speech regarding economic inequality. "We will continue doing everything that we can to oppose the drift which currently exists toward an oligarchic form of society where a handful of billionaires exercise enormous power over our political, economic, and media life," he said.
Donald Trump, he said, would be a "disaster as President of the United States. It is unbelievable to me, and I say this in all sincerity, that the Republican party would have a candidate for president who, in the year 2016, makes bigotry and discrimination the cornerstone of his campaign."
"Needless to say, I will do everything in my power and I will work as hard as I can to make sure that Donald Trump does not become President of the United States," he added.
In advance of the final Democratic primary, which will take place in Washington D.C. next Tuesday, he also noted his strong support for D.C. statehood. The nation's capital has less representation in Congress than his own state of Vermont, despite having a comparably sized population, he noted.
The senator said that he spoke briefly to Hillary Clinton and congratulated her on "her very strong campaign," and looked forward to meeting with her and working together to defeat Trump. He also said that he believed a recount of the results of the California primary, which Clinton won on Tuesday, would show a much closer race.
He did not take questions from reporters following the conclusion of his statement.
Have a tip we should know? tips@mediaite.com