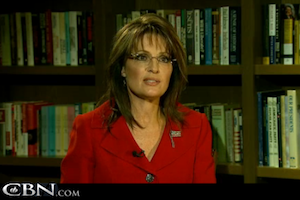 As 2011's Conservative Political Action Conference draws closer, tensions have been raised again over the inclusion of homosexual conservative groups like GOProud with some threatening to boycott while others have tried to stress the conference's all inclusive (to conservatives) nature. To the latter, more welcoming side, it appears we can add none other than Sarah Palin. Palin seemed to offer her support to GOProud in a recent interview with none other than the religious-based CBN News.
In the interview, which was released in parts over the weekend and aired in full today on The 700 Club, Palin is asked about GOProud's attendance and seemed present a "Big Tent is big enough for everyone" approach. Here's her response (transcript from CBN) with the relevant section highlighted:
"Well, I've never attended a CPAC conference ever so I was a little taken aback this go around when I couldn't make it to this one either and then there was a speculation well I either agree or disagree with some of the groups or issues that CPAC is discussing. It really is a matter of time for me. But when it comes to and David, perhaps what it is that you're suggesting in the question is should the GOP, should conservatives not reach out to others, not participate in events or forums that perhaps arising within those forums are issues that maybe we don't personally agree with? And I say no. It's like you being on a panel shoot, with a bunch of the liberal folks whom you have been on and you provide good information and balance, and you allow for healthy debate, which is needed in order for people to gather information and make up their own minds about issues. I look at participation in an event like CPAC or any other event along kind of in that same vein as the more information that people have the better."
Clearly it's not the strongest endorsement in the world and Palin's winding phrasing could be interpreted differently if she ever needs it to, but it certainly seems like the former Governor is in favor of gay groups being invited to CPAC. The fact that she's saying it to an influential Christian network makes it even more interesting.
(h/t Breitbart.tv)
Check out the clip from CBN below and decide for yourself:

Have a tip we should know? tips@mediaite.com