Sarah Palin's Harsh Words For McCain; Says Obama's "Hell Bent On Weakening America"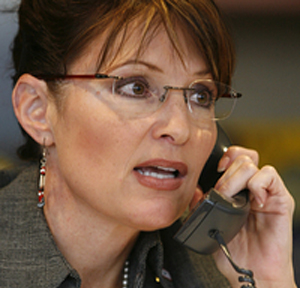 Sarah Palin made an appearance on Laura Ingraham's radio show today and, like every time she makes an appearance anywhere, she had some interesting and immensely quotable things to say. She knocked her old running mate John McCain and claimed President Obama's goal was to "weaken America." Wait, a second. Hostilities between Palin and McCain? Worries about Obama weakening America? With these comments and Rush Limbaugh's, today's clearly Act Like It's Early 2009 Day and we missed the memo. Darn!
First up was McCain. Ingraham asked Palin what she thought about the Senator's comments on Today about compromising on immigration reform, Palin responded that she didn't "think the priority of the Republican Party should be capitulating or compromising when it comes to our principles and those time tested truths that help build our country." She then said that Republicans need to "draw a line in the sand" and that it was the "last chance" for GOP members who've "blown it too many times" implementing the public's core values and ideas. Ingraham made sure to remind Palin that McCain was the guy who "picked her for the ticket" that was now talking about compromise and Palin softened a (small) bit, saying she would give him the benefit of the doubt.
Next came Obama. Palin was not at all happy about Obama raising the debt as you can see in this transcription from the official YouTube Channel of The Laura Ingraham Show:
Palin: "We've got to be able to respect our politicians and trust what it is they are doing. Now, I don't personally trust what comes out of the White House….[Obama] is hell bent on weakening America and he has told us back in March of 2006 that it weakens America domestically and internationally to raise the debt ceiling. And he said it is a sign of failed leadership to support raising the debt ceiling. And now he is doing exactly that. So, what Obama is doing–purposefully weakening America, because he understood that debt weakens America domestically and internationally–and yet now he supports increasing debt."
Laura: "So his goal is to weaken America?"
Palin: "On this issue it has to be, otherwise, what did he mean back in March of 2006 when he said that he understood that increasing debt weakens America?"
It may be Act Like It's Early 2009 Day, but, with "hell bent on weakening America" and "draw some lines in the sand," we truly have some awesome Palin quotes worthy of 2011. You can check them both out in the video from The Laura Ingraham Show below:
(h/t Breitbart.tv)
Have a tip we should know? tips@mediaite.com