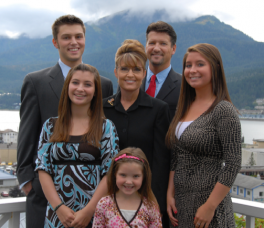 Sarah Palin has issued a statement regarding this morning's announcement — on the cover of US Weekly — that her daughter Bristol is now engaged to be married to Levi Johnston, mother of their son Tripp.
"Bristol, at 19, is now a young adult. As parents we obviously want what is best for our children, but Bristol is ultimately in charge of determining what is best for her and her beautiful son.

Bristol believes in redemption and forgiveness to a degree most of us struggle to put in practice in our daily lives.

We pray that, as a couple, Bristol and Levi's relationship matures into one that will allow Tripp to grow up graced with two loving parents in his life"

– The Palin Family
Alas, among the things this short statement does not address is whether Palin was aware of the engagement prior to this morning's cover release — I find it nearly impossible to believe she wasn't. Also unclear is whether this new brevity on the part of Palin when it comes to family matters — we are talking about a woman who issued multiple Facebook notes on Piper's vulnerability in the aftermath of Joe McGinniss' arrival next door — or merely a temporary stop-gap while Palin decides her next best move media-wise. There was some speculation earlier this morning that Levi's return to the fold was yet another sign that Palin was keen to wrap up loose ends now that her presidential ambitions appear more serious, so perhaps this new brevity is a sign she intends to keep her family out of the spotlight going forward. But I doubt it.
Have a tip we should know? tips@mediaite.com