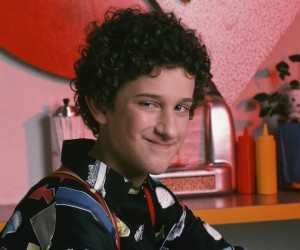 Dustin Diamond, the former Saved By the Bell cast member who was arrested for possessing a switchblade and charged with allegedly stabbing a bar patron in Wisconsin, has been found guilty of two misdemeanor counts in a Wisconsin courtroom on Friday.
According to the Guardian, Diamond — otherwise known as "Screech" from the cult NBC show — was cleared of the more serious felony charge lauded against him by the prosecution.
The jury's verdict came just hours after the 38-year-old actor testified he never intended to stab anyone in the fight last Christmas Day. He had pleaded not guilty to a felony charge of recklessly endangering public safety, plus two misdemeanors – carrying a concealed weapon and disorderly conduct.
Meanwhile, Diamond's girlfriend Amanda Schutz still faces a misdemeanor for disorderly conduct. Witness testimony from Diamond's trial indicated that, although bar patrons were being antagonistic towards the couple, Schutz initiated the conflict when she attacked two women.
During his testimony, Diamond said that he "felt like we were being set up for antagonistic purposes."
However, on a more unbelievable note, Diamond's lawyer questioned him about whether or not he enjoyed the public's constantly comparing him to his Saved By the Bell character, Screech. His response?
Diamond said he, like his character, enjoyed nerdy things. And Diamond said he liked being identified in public as the goofy television character.
No word on whether or not Diamond will be charged with perjury.
[h/t the Guardian]
[Image via NBC]
— —
>> Follow Andrew Husband (@AndrewHusband) on Twitter
Have a tip we should know? tips@mediaite.com