Scathing Report Shows Just How Many Journalists Have Contributed to Clinton's Campaign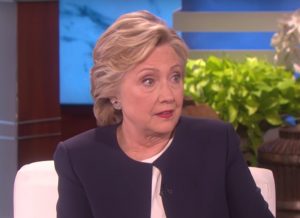 The Center for Public Integrity just released the names of some of Hillary Clinton's supporters. Specifically, they released the names of supporters who work in print or broadcast media, which raises some questions. How reasonable is it to expect that every person working as a journalist — even covering sports, for instance — refrain from exercising their rights as private, voting citizens? Moreover, how can we expect the same sort of round-the-clock unbiased behavior from opinion writers and commentators?
Those are just a few questions to mull over as you read the piece, which outs the New Yorker's television critic Emily Nussbaum as a Clinton backer in its first paragraph. She, of course, is paid to offer her opinion on television and when she critiqued Clinton's opponent, Donald Trump, she did so in a piece called "The RNC on TV: Another Unbelievable Evening."
An assignment editor at San Diego's KFMB, Les Waldron, donated some of his money to Trump's campaign.
Here's what the Center found:
In all, people identified in federal campaign finance filings as journalists, reporters, news editors or television news anchors — as well as other donors known to be working in journalism — have combined to give more than $396,000 to the presidential campaigns of Clinton and Trump, according to a Center for Public Integrity analysis.

Nearly all of that money — more than 96 percent — has benefited Clinton: About 430 people who work in journalism have, through August, combined to give about $382,000 to the Democratic nominee, the Center for Public Integrity's analysis indicates.
More journalists may have donated, but donations under $200 are not required to be disclosed.
Some major news organizations — the AP, CNN, the LA Times, the New York Times, and even the Center itself — very clearly ban their journalists from donating to any political campaigns.
Margaret Sullivan, the Washington Post's media columnist, called not donating "a good discipline" while Paul Fletcher, the editor-in-chief of Virginia Lawyers Weekly, said donating "easily could be perceived as a conflict of interest."
The Center for Public Integrity made a point to include the opinions of those who believe that donations made from news staff are fine, especially those who think that restaurant writers or sports journalists should be able to donate to political campaigns and causes.
A number of reporters, editors, and general media personnel are listed in the report, which has been getting a collective eye roll on Twitter: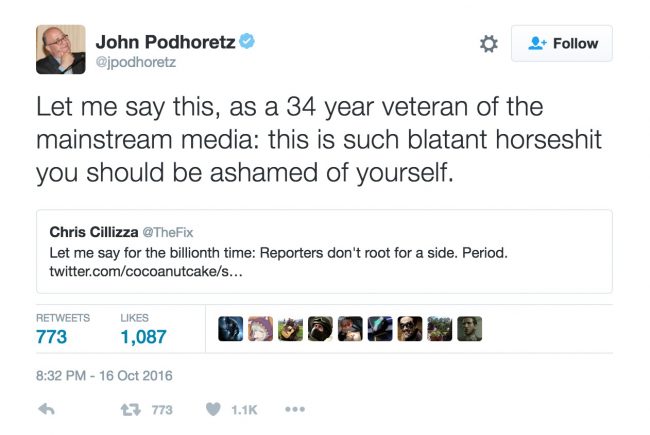 Emily Nussbaum, Larry King, and a bunch of reporters you've never heard of have donated to Hillary Clinton https://t.co/hW0vsNDkxE

— Blake Hounshell (@blakehounshell) October 17, 2016
Most of the people in this story are not political reporters or even news reporters https://t.co/ZNLBDVSARi

— Katherine Miller (@katherinemiller) October 17, 2016
What if these donations were not pro-Hillary but merely anti-apocalypse? https://t.co/1jpjh8DiFI

— Heidi N Moore (@moorehn) October 17, 2016
oh man, the New Yorker's TV critic & a San Diego TV assignment editor BOTH gave political $$$? Bias everywhere! https://t.co/NGWwerxKrg

— Edward-Isaac Dovere (@IsaacDovere) October 17, 2016
The less interesting but true headline for this seems to be that no national news/politics reporter has donated https://t.co/RoagQK4vrw

— Matthew Gertz (@MattGertz) October 17, 2016
That last point is true. There was no headlining political reporter mentioned in the report.
[image via screengrab]
Have a tip we should know? tips@mediaite.com