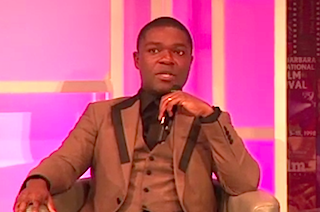 When David Oyelowo, who portrayed Dr. Martin Luther King, Jr. in Selma, was asked during an interview this weekend at the Santa Barbara Film Festival who he tells people who think he was "snubbed" by the Academy Awards, he joked that he says "calm down" while secretly whispering "get angry!"
The actor went on to diagnose what he sees as a larger problem for black actors in Hollywood, who he believes are more often celebrated for playing "subservient" roles than they are for playing leaders and kings.
"We have been slaves, we have been domestic servants, we have been criminals, we have been all of those things," he said of black people. "But we have been leaders, we have been kings, we have been those who changed the world."
As for why it took so long for someone to make a film in which Dr. King is "the center of his own narrative," Oyelowo said that it is "because up until 12 Years a Slave and The Butler did so well, both critically and at the box office, films like this were told through the eyes of white protagonists, because there is a fear of white guilt."
"So you have a very nice white person who holds black people's hands through their own narrative," he continued. "We don't want to see that pain again, so you don't even go into what that pain was in an authentic way. Both of those things are patronizing to the audience. You can't have people curating culture in this way when we need to see things in order to move forward from them."
While Selma was nominated for Best Picture at this year's Academy Awards, both Oyelowo and director Ava DuVernay, who would have been the first Oscar-nominated African-American female director, were both denied spots in their respective categories.
During an interview last week with Democracy Now!'s Amy Goodman, DuVernay said she was less bothered by the supposed Oscar snubs for her film and more concerned with overall opportunities for black artists in Hollywood.
"Why was Selma the only film that was even in the running with people of color for the award?" she asked. "You know what I mean? I mean, why are there not—not just black, brown people? You know what I mean? Asian people, indigenous people, representations that are more than just one voice, just one face, just one gaze?"
Watch video below, via The Hollywood Reporter:
[h/t AV Club]
[Photo via screengrab]
— —
>> Follow Matt Wilstein (@TheMattWilstein) on Twitter
Have a tip we should know? tips@mediaite.com