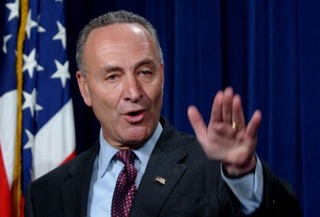 While last night's anticlimactic government non-shutdown peeved more than a few in Congress and around Capitol Hill, Sen. Charles Schumer may have come up with the most comically derogatory metaphor for the other side: House Republicans, he griped yesterday, are a "flea, wagging a tail, wagging a dog."
His creative take on the common "wag the dog" aphorism (and creative take on Article I of the Constitution, interpreting some Republicans as colonizing parasites rather than actual members of Congress) came yesterday afternoon, in the heat of the budget battle that ended when both parties agreed on significantly cutting the national budget. Sen. Schumer, to his credit, was not describing the entire party as such– only those on the far right that sought the night to culminate in a shutdown. Via The Hill:
What we have here is a flea, wagging a tail, wagging a dog," said Schumer, chairman of the Senate Democratic Policy Committee.

"The flea are the minority of House Republicans who are hard right, the tail is the House Republican caucus, and the dog is the government," Schumer explained. "That flea is influencing what the dog does … and it is sad."
He went on to conclude that said "hard right" Congressmen, by sticking to their positions, ultimately "do what is wrong for the country substantively." Surely those in the House could not have taken the comment particularly well, though it at least highlights one positive (?) aspect of this battle: it brings out the colorful rhetoric on both sides.
Have a tip we should know? [email protected]