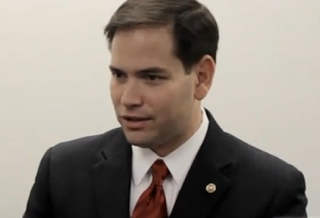 While the media is reveling in Donald Trump's newfound status as Republican presidential candidate, not everyone on the right seems to understand why Trump has chosen President Barack Obama's nationality as a battlefront. One voice opposed to spotlighting the "birther" issue is Sen. Marco Rubio, who wondered aloud this week how President Obama's birthplace has become a legitimate campaign issue.
Speaking to the Daily Caller's Matt Lewis, Sen. Rubio appeared genuinely puzzled that the President's birthplace is still an issue so many years later. "There are more important things facing our country," he noted. "What does that have to do with the $14 trillion we owe?" he asked, adding that the national debt– particularly with regard to China– is what "we should be focusing on like a laser."
Compared to reactions from some possible 2012 frontrunners– including Mike Huckabee this morning– Sen. Rubio's dismissive response to Trump comes almost as a surprise. Of course, unlike most people talking about Donald Trump on television and the internet, Sen. Rubio has a constituency to worry about, whether he runs for higher office or not, and the median voter has been proven time and again to care little for the birth certificate talk. Not to mention that, after a hellish week trying to agree on a national budget, a reality TV star griping about the possibility of the President being foreign-born may seem particularly trivial.
Then there's the fact that Sen. Rubio may have enough in common with the President that, should he ultimately run for higher office, supporting foreign birth fears could come back to haunt him. Rubio has flatly denied rumors of being anywhere near the GOP presidential ticket in 2012, though at this stage of the horserace it is much more difficult to find someone admitting they are thinking about running than denying it. Perhaps 2012 may be too early for the first-term Senator, but if presidential ambitions are in Sen. Rubio's future, it wouldn't be unfathomable that an equally incomprehensible movement speculating about Rubio's birthplace would form, too. If he runs in 2012, he will have the same amount of experience in the Senate as President Obama had when he won the presidency, and he would likely face a similar uphill battle with a certain sector of the population ethnically, too. After all, Rubio is the son of exiles and was born in Miami, Florida– tropical enough to arouse the brand of ill-placed, time-wasting paranoia Trump has made the centerpiece of his "presidential (?) campaign."
Rubio's comments to the Daily Caller below:

Have a tip we should know? tips@mediaite.com