Sexy Bitch Co-Author Michael Ian Black On Meghan McCain And Her Taste In 'Dumbass' Music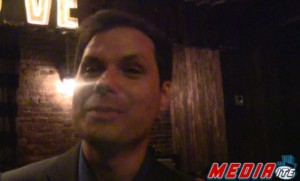 Senator and Mrs. John McCain held a book party in honor of America, You Sexy Bitch: A Love Letter to Freedom, co-written by Meghan McCain and comic actor Michael Ian Black, at New York's Southern Hospitality barbecue and steak house Tuesday night. After several hours of open bar, Mr. Ian Black (or "Michael," as he likes to be called) submitted to a grilling about life on the road with Meghan McCain, how the experience changed his views, and why there are no good TV theme songs.
I began by asking him what was the most annoying part of a month on the road with Meghan McCain.
"She listens to terrible music," Michael said. "Just all, like, country bullshitty, kinda Nashville dumbass music."
Since I made that the headline, the least I can do is take my share of the hate mail by agreeing with him. With some notable exceptions (Johnny Cash, for example, or subgenres like bluegrass), I can't effing stand country music.
"Also," he added, "there's a lot of…there's a fair amount of pouting there, as well. Things don't go her way, there's some pouting."
When asked who the audience for America, You Sexy Bitch: A Love Letter to Freedom is, Black said, "I'm hoping it's people who are not into politics. I hope it's people who go 'Politics are bullshit, politicians are bullshit, but I love my country. I don't know how to talk about politics, I don't even know what I think about politics, but I care enough about my country to at least engage the tiniest little bit."
He also says the time spent with Meghan McCain brought about some changes in him. "I think I'm more sympathetic to Second Amendment issues, maybe, than I was, issues involving gun rights. "
"And I'm actually sympathetic to the entire conservative worldview," he continued. "I'm sympathetic to the desire to have small government, and personal responsibility, and individualism, and pulling yourself up by your bootstraps. In theory. It all sounds great on the page. I just think, in execution, the government plays a role. The government has to help out a little bit."
Mr. Black also talked about They Came Together, a now-shooting film which reunites him with his castmates from the cult comedy show Stella, along with much of the team from Wet Hot American Summer.
I also asked him, as a frequent commentator on VH1's I Love The '90s, why he thought there were no good TV theme songs anymore, and what it would take to get him to vote for Mitt Romney. Check out our interview for the answers to those questions, and more:
Follow Tommy Christopher (@TommyXtopher) on Twitter.
Have a tip we should know? tips@mediaite.com