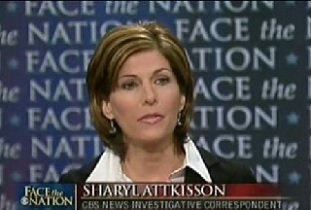 Former CBS News investigative reporter Sharyl Attkisson appeared on Friday with Philadelphia-based radio host Chris Stigall where she was asked about a story that exploded on Thursday involving an accusation from a local CBS reporter who alleged that White House correspondents often submit their questions to White House Press Sec. Jay Carney in advance. The White House press corps strongly objected to this allegation, and the reporter who made this claim later walked it back.
Attkisson said that, while she did not think this was a matter of collusion between journalists and political spokespeople for some nefarious purpose, there is some form of coordination between them. Attkisson added that there is a "chummy" relationship between reporters and political spokespeople that has been a feature of Washington D.C. that predates the Obama administration.
"I wouldn't be surprised if sometimes there is that sort of level of cooperation with some questions that want to be asked," Attkisson said, while noting that she had not attended a press briefing in the Obama White House. She continued, for example, that press secretaries may have questions submitted in advance and the reporter will be informed that the White House would prefer that question be raised during a press briefing so that it can be printed in a variety of news outlets.
RELATED: White House Reporters: No, Questions Are Not Submitted to Jay Carney in Advance
"I wouldn't be shocked if there wasn't sometimes more coordination," Attkisson continued. "I don't think it's everybody every day. In fact, I'm pretty sure it's not. But I think people would be surprised at the level of cooperation reporters have in general with politicians."
"It's almost as if, I don't know, we're all in the same sort of club and we're supposed to protect each other a little bit," she added. "There is a lot of this chummy relationship, and not just under the Obama administration. There's been that under all of them."
She said that some reporters and news outlets do, in her impression, want to keep the subjects they report on "happy."
Listen to the clip below via WPHT:
[h/t CBS Philadelphia ]
[Photo via screen grab]
— —
> >Follow Noah Rothman (@NoahCRothman) on Twitter
Have a tip we should know? tips@mediaite.com