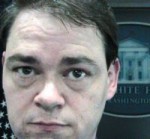 Like so many things on Twitter, it hit me in the face like a bucket of ice water. One minute, I'm cracking wise about Governor Palin's "Higher calling," the next minute, I'm looking at a Twitter message ("tweet" for you newbies) that says this:
They killed my son, Aaron! about 19 hours ago from web

My first instinct was to wonder if it was a hoax. (It isn't.) In the truth-is-stranger-than-fiction department, Aaron's dad, David Masters (actually his stepfather), runs a website devoted to a diet plan that says you can lose weight by eating chocolate. He also runs an "As Seen on TV" site called Dave and Shelley's Internet Love Connection that features a detailed account of his sweet, if quirky, courtship of his wife.
As a veteran of Twitter hoaxes like self-mugging McCainiac Ashley Todd, this sent up a red flag, as did David's plea for a viral online tribute to Aaron:
I'd like to see "Thank you, Aaron," show up on the Trending Topics for giving his life on Independence Day in Afghanistan. about 20 hours ago from web
At first, the part of my brain that's still hard-wired to the 6 TV channel (plus PBS) world that I grew up in resisted the idea of such a tribute. Didn't it seem trivial?
In the 21st century, though, this is the nature of cutting-edge media. This is Twitter's genius, the juxtaposition of the trivial with the momentous, but all of it immediate. Twitter's involvement in the Iranian unrest is a great example of this, as people's thoughts on what they had for dinner were interrupted by a young woman's struggle for life. Even David Masters' Twitter feed continued to send out tweets, apparently automatically, of stories involving the keywords "Biggest Loser."
What we have now is an instant, permanent memorial to Aaron Fairbairn's sacrifice for his country, and one that is uniquely human. Twitter is not only a medium of mass communication, it's also a community in ways that other social networking sites aren't. It has a natural immunity, for example, to the kinds of spammy promotion (much of it pornographic) that ruined sites like MySpace. On Twitter, you only follow what you want to follow.
Aaron's story also illustrates the way new media can deliver a story in ways that traditional media cannot. Here's David Masters' account of Aaron's death:
They killed my son, Aaron! about 21 hours ago from web

He was minding his own business BS-ing with an Officer on base in Afghanistan… about 21 hours ago from web

When a suicide bomber, driving a truck breached the perimiter and pushed the button…about 21 hours ago from web

Killing my son, Aaron and the Officer. about 21 hours ago from web

On Independence Day, a few hours ago, they killed my son, Aaron in Afghanistan. about 21 hours ago from web
There's a personal connection there, to be sure, a deeper understanding of the story than you can get from a more clinical news story:
KABUL, Afghanistan (AP) — Taliban militants fired rockets and mortar shells at an American base in eastern Afghanistan on Saturday, killing two United States soldiers and wounding several more in a two-hour battle, officials said.

During the clash, which ended only after United States forces called in airstrikes, a suicide bomber drove an explosives-laden truck toward the base's gates. It blew up when American troops fired on it.
Of course, official accounts never carry details like the names of soldiers killed, so that the families can be notified.
Another interesting facet of this story is the way it ties together, then eclipses, some very recent news stories. Dave Masters' websites immediately put me in mind of likeable pitchman Billy Mays' recent, sudden death. According to Aaron's MySpace page, he was stationed in Alaska for a time earlier this year, home state of this holiday weekend's other huge story, Sarah Palin. Then, of course, there's the echo of tragically slain Neda, around whom the Twitter community also rallied.
To verify Aaron's story, I searched the internet for established clues connecting David's story to Aaron. In doing so, I located his mom's blog, where, a mere 2 weeks ago, she wrote of her son's departure to Afghanistan. I also found Aaron's MySpace page, which featured a picture of himself with his dad, and the following introduction: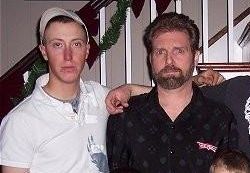 Hey my name is Aaron Faibairn, I am 20 and in the army. I like to ride dirtbikes, go muddin and all of that kind of stuff. One of my favorite things to do is work on my truck when I break it. I have a yamaha yz 125 I haven't got to ride it much because of work but i plan to go race it sometime.
It also showed the poignant, unsettling evidence of Aaron's last login:
Last Login: 7/3/2009
Mood:  irritated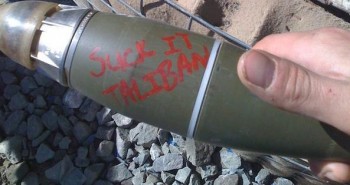 You could spend the better part of an afternoon (as I have) getting to know Aaron and his family. His photos from Afghanistan show something of his sense of humor, as he displays a rocket inscribed "Suck it, Taliban!" and another photo is captioned, simply, "Piss tubes."
These are the lives of real people, the ones who had full lives that they left behind before donning those uniforms, now familiar from official portraits of the fallen. All too often, their faces are painfully young, like Aaron's was.
A little detail like the Pringles can in the background of a photo of Aaron in uniform bridges the gap between the epic struggle he was to join, and the normal life we all take for granted.
As with so much tragic, terrible news that confronts us, there seems like little that we can do but stand by and watch. Now, at least we can all say "Thank you, Aaron."
Have a tip we should know? tips@mediaite.com