Slate's Jamelle Bouie Says There Are No Good Trump Voters, Compares Them To Lynch Mobs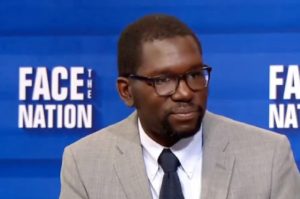 In a provocative article that was published by Slate today, chief political correspondent Jamelle Bouie made the case that there is "no such thing as a good Trump voter."
Bouie, who also serves as a political analyst for CBS News, argued that President-elect Donald Trump's campaign hinged on "racist demagoguery" and that he elevated white nationalism to the White House. While noting that many have criticized Trump's voters for this, he also name-checked others who have called for empathy and understanding.
After pointing out the hundreds of incidents of harassment and intimidation that have been reported in the wake of Trump's victory, and highlighting some of Trump's rhetoric on the campaign trail, Bouie went in on Trump voters themselves.
Bouie brought up the incidents of lynching in the late 19th to mid 20th centuries, noting that more than 3,500 African Americans were killed this way during that time. He also claimed that those who participated in lynch mobs weren't "ghouls or monsters" but instead were ordinary people.
The writer then claimed that you could not clear Trump's voters of the violence that is done in his name.
And the people who watched these events, who brought their families to gawk and smile, were the very model of decent, law-abiding Americana. Hate and racism have always been the province of "good people." To treat Trump voters as presumptively innocent—even as they hand power to a demagogic movement of ignorance and racism—is to clear them of moral responsibility for whatever happens next, even if it's violence against communities of color. Even if, despite the patina of law, it is essentially criminal. It is to absolve Trump's supporters of any blame or any fault. Yes, they put a white nationalist in power. But the consequences? Well, it's not what they wanted.
After the article was published, Bouie let it be known he was prepared for backlash.
I have a…feeling that this one is not going to go down well. https://t.co/rOfQpLtTxU

— Jamelle Bouie (@jbouie) November 15, 2016
[image via screengrab]
–
Follow Justin Baragona on Twitter: @justinbaragona
Have a tip we should know? tips@mediaite.com